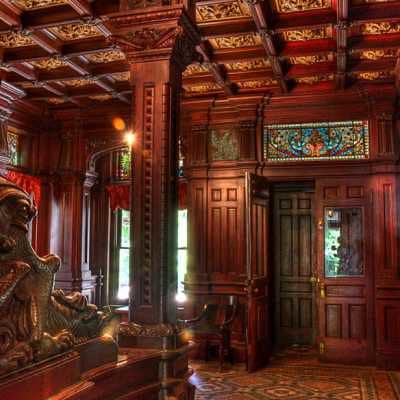 Tour Home Extraordinaire!
Exquisite original interior in an architectural treasure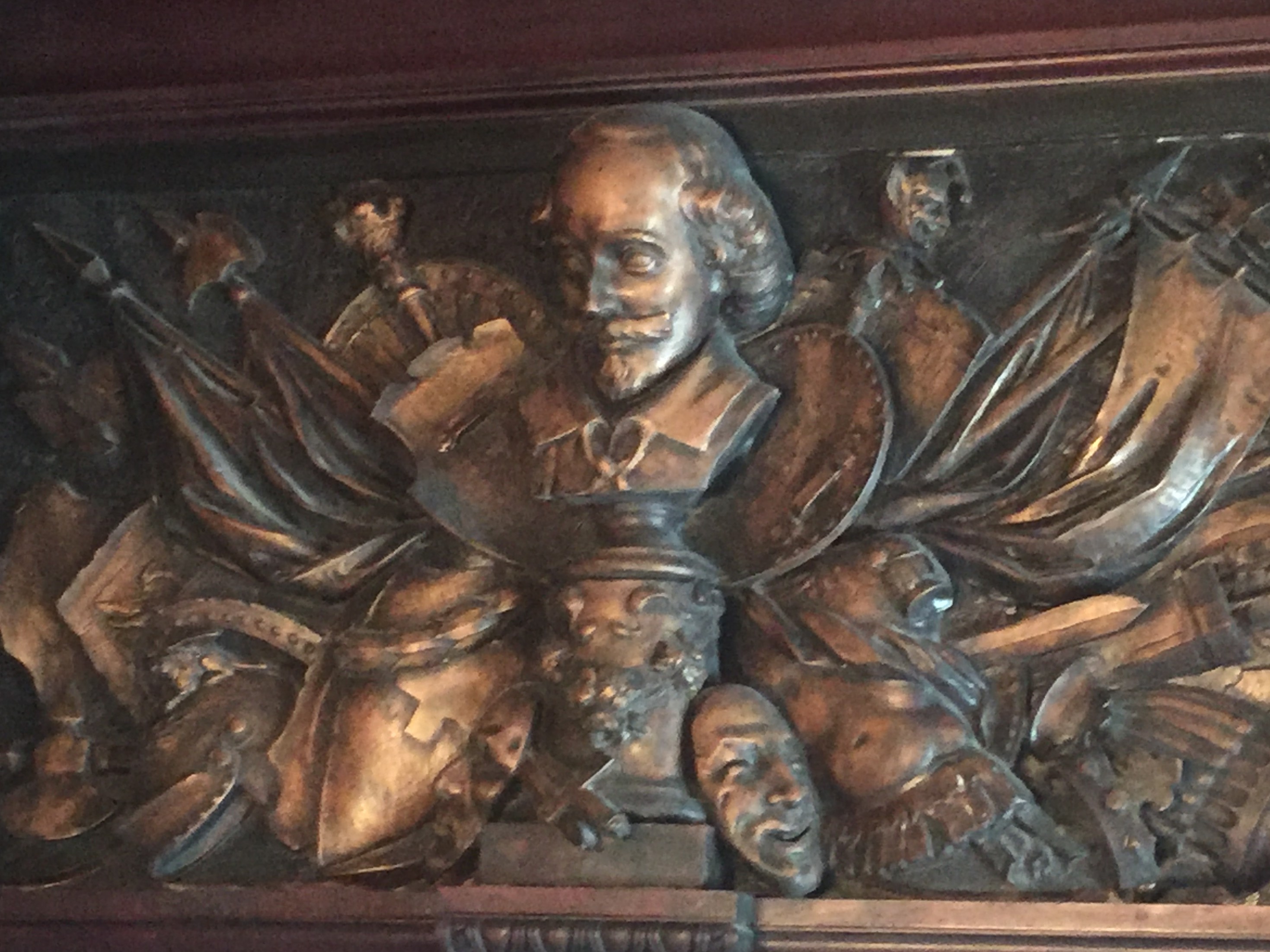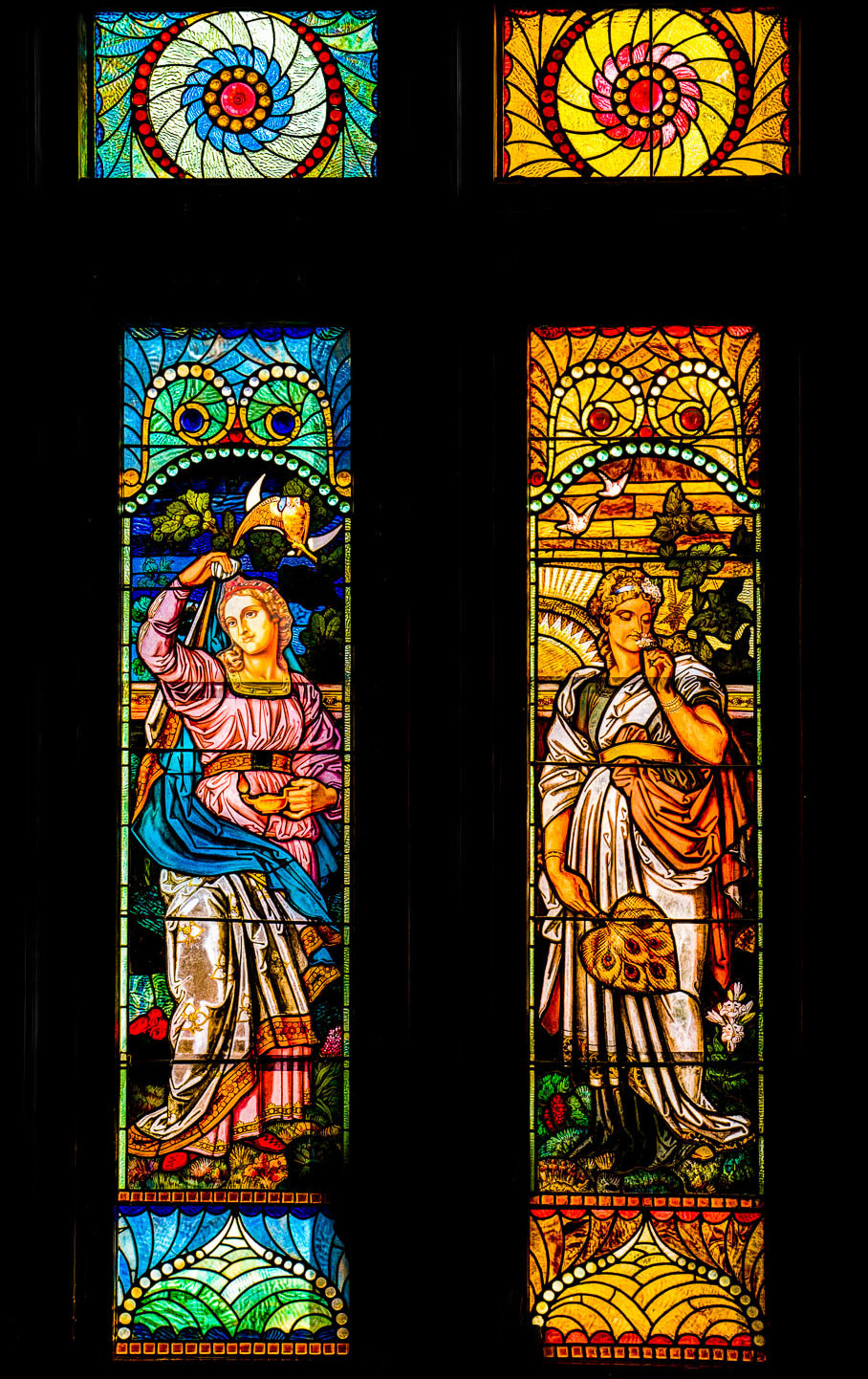 The majestic Shakespeare Chateau was built in 1885 for Nathan Phipps and Elmarine Ogden when St. Joseph was known as "Queen of the River Cities." High atop a bluff looking down across the city and the Missouri River, 809 Hall is one of several mansions in the National Register Historic District known locally as "Millionaires' Row."
St. Joseph's Premier Tour Home
The Shakespeare Chateau is a favorite tour destination, and has been a featured property on several successful home tours. In November 2012, the St. Joseph Symphony sponsored a Holiday Homes Tour that showcased the mansion lavishly decorated for the holidays, and the mansion has anchored several tours sponsored by Uptown St. Joseph Redevelopment. Most recently, the Shakespeare Chateau is home base for the "Jewels of St. Joseph" annual homes showcase to benefit the Historic St. Joseph Foundation.
Private Tours
Private tours are available for groups of 5 or more people, priced at just $10 per person. Enhanced private tours are also offered that include food and beverage options.
Call or email for enhanced tour pricing and reservation information.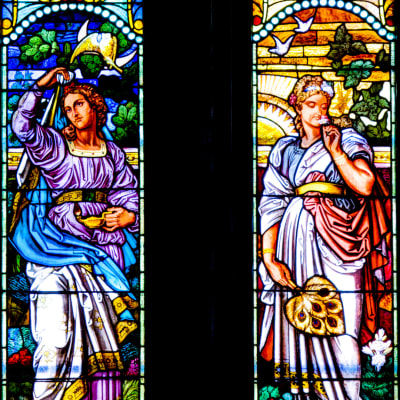 Stained Glass
An Extraordinary Collection
More than 130 years ago, Nathan and Elmarine Ogden built this chateauesque-style mansion on Hall Street, and appointed it lavishly with the best of everything that money could buy. Today, the Shakespeare Chateau still boasts 47 original artisan-crafted stained glass masterpieces. Photos can't do justice to the intricate designs and dazzling play of light through these windows.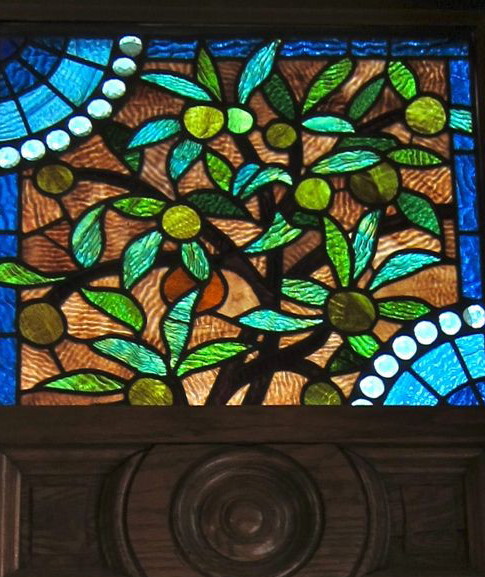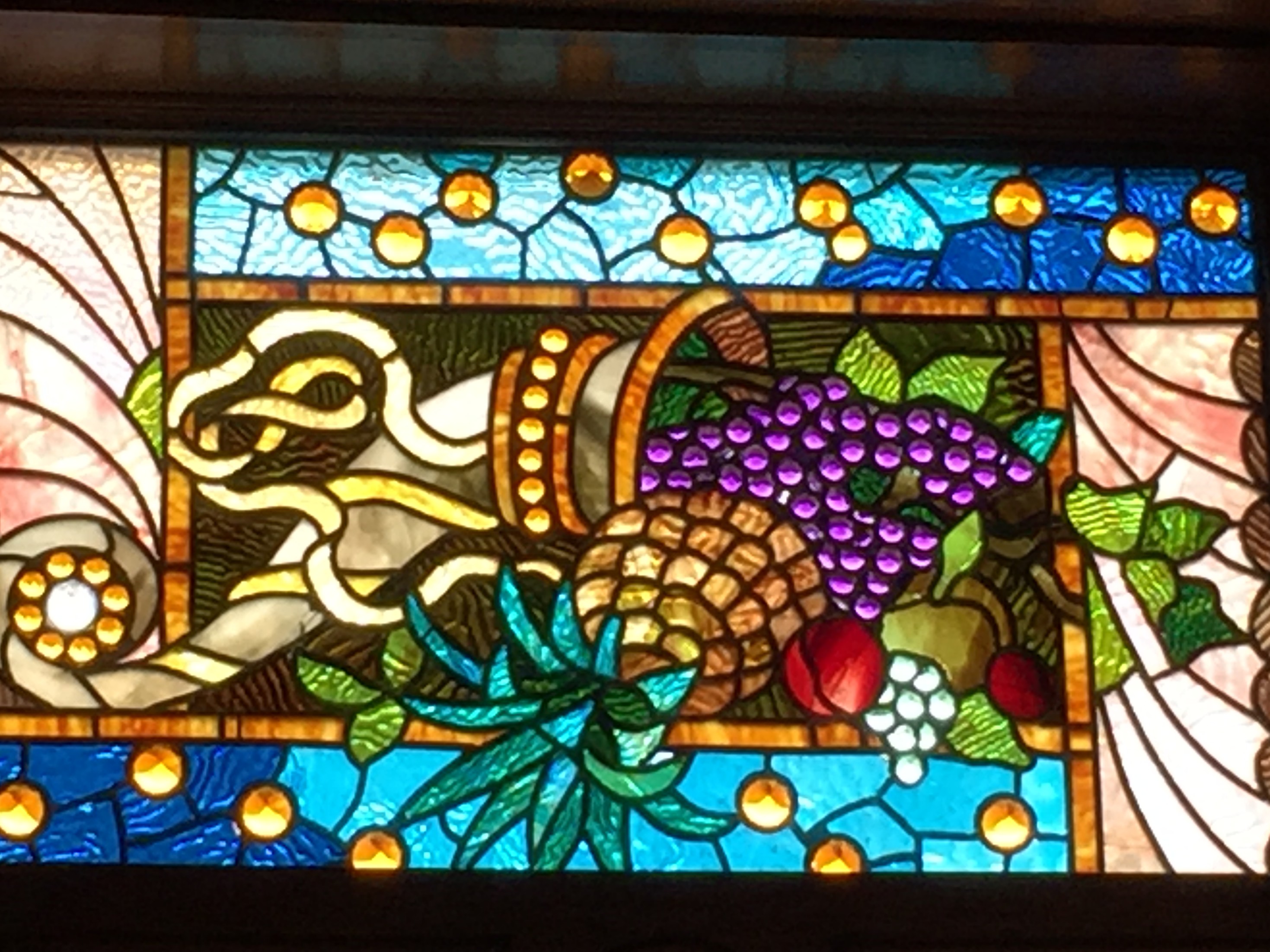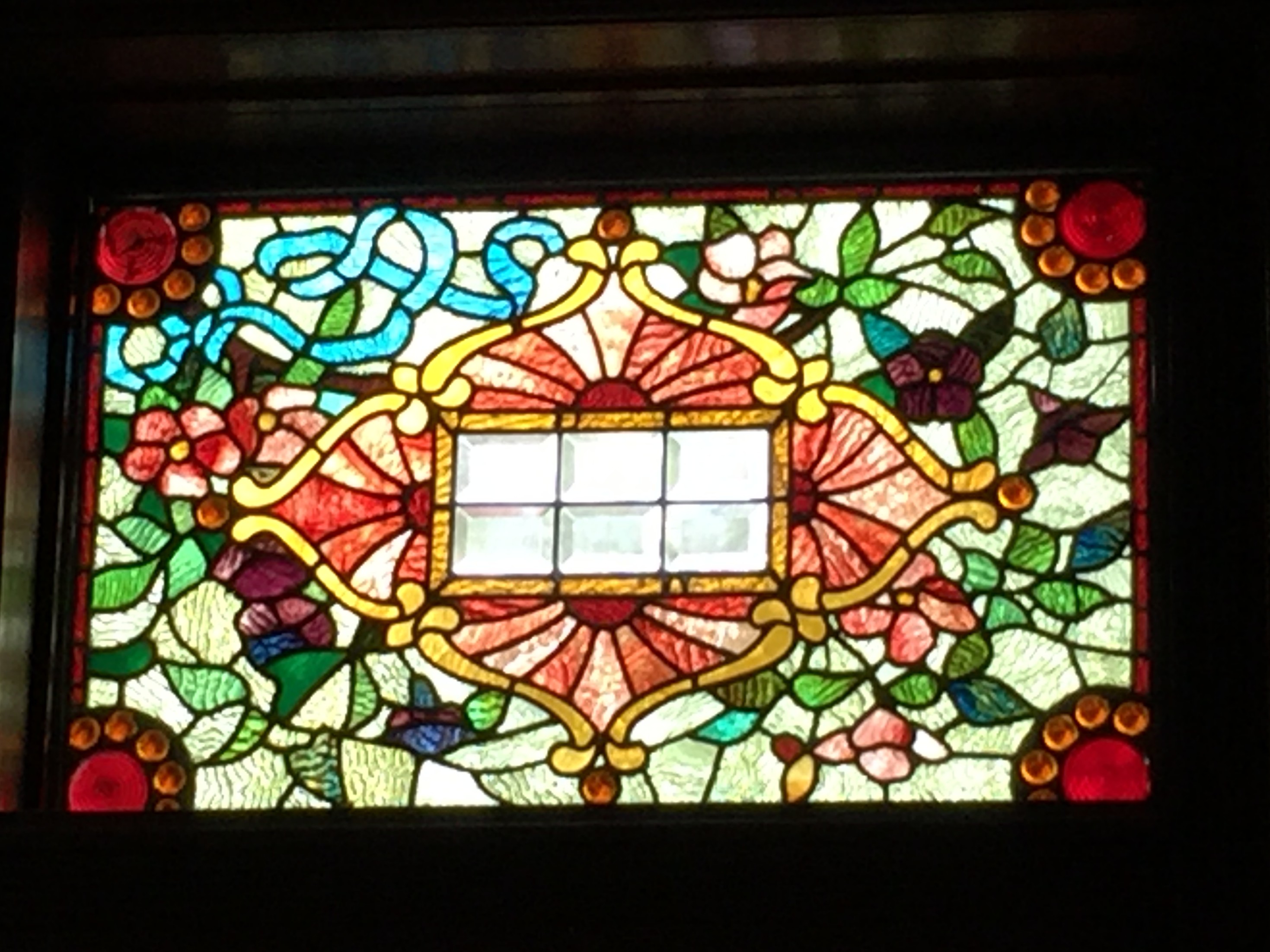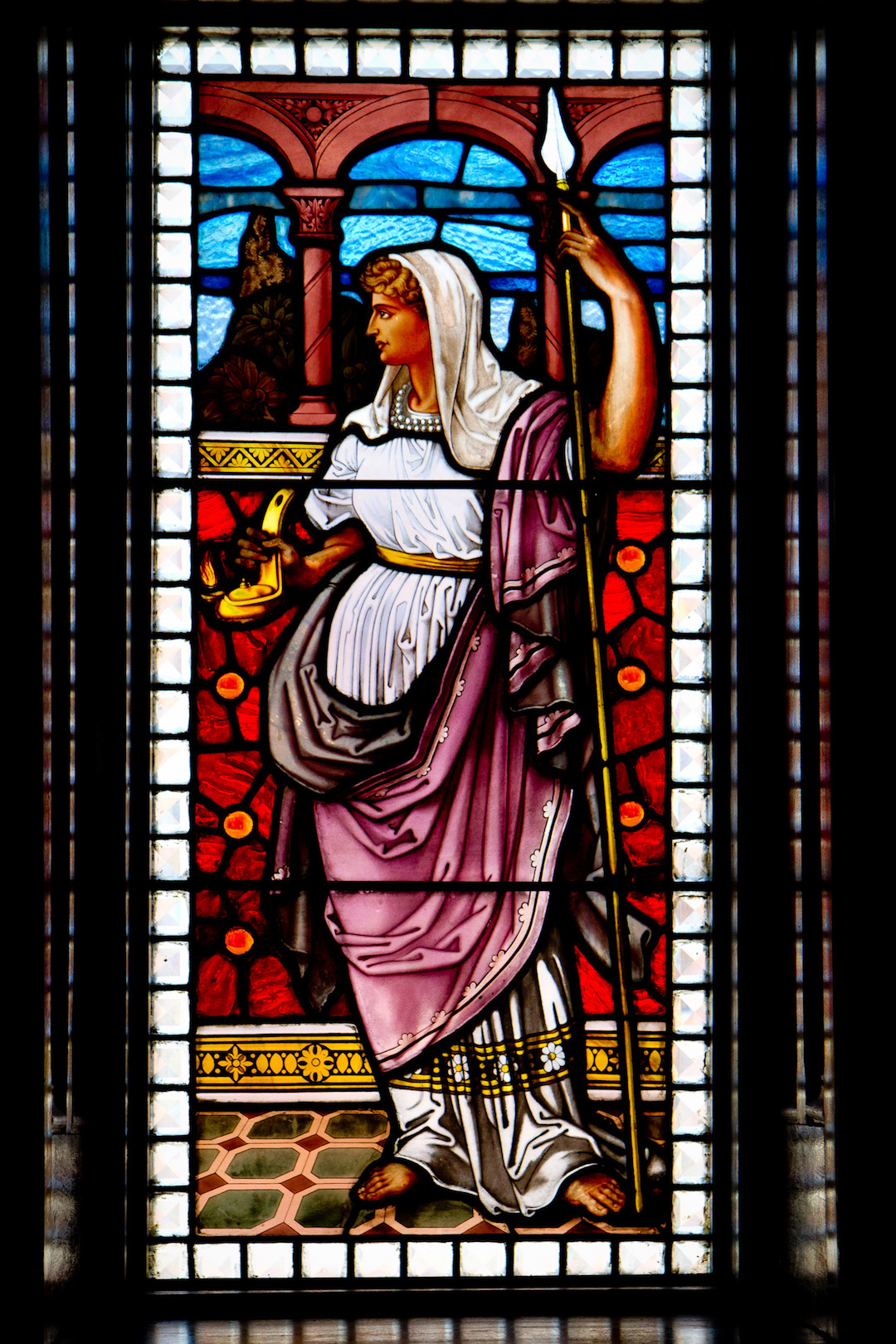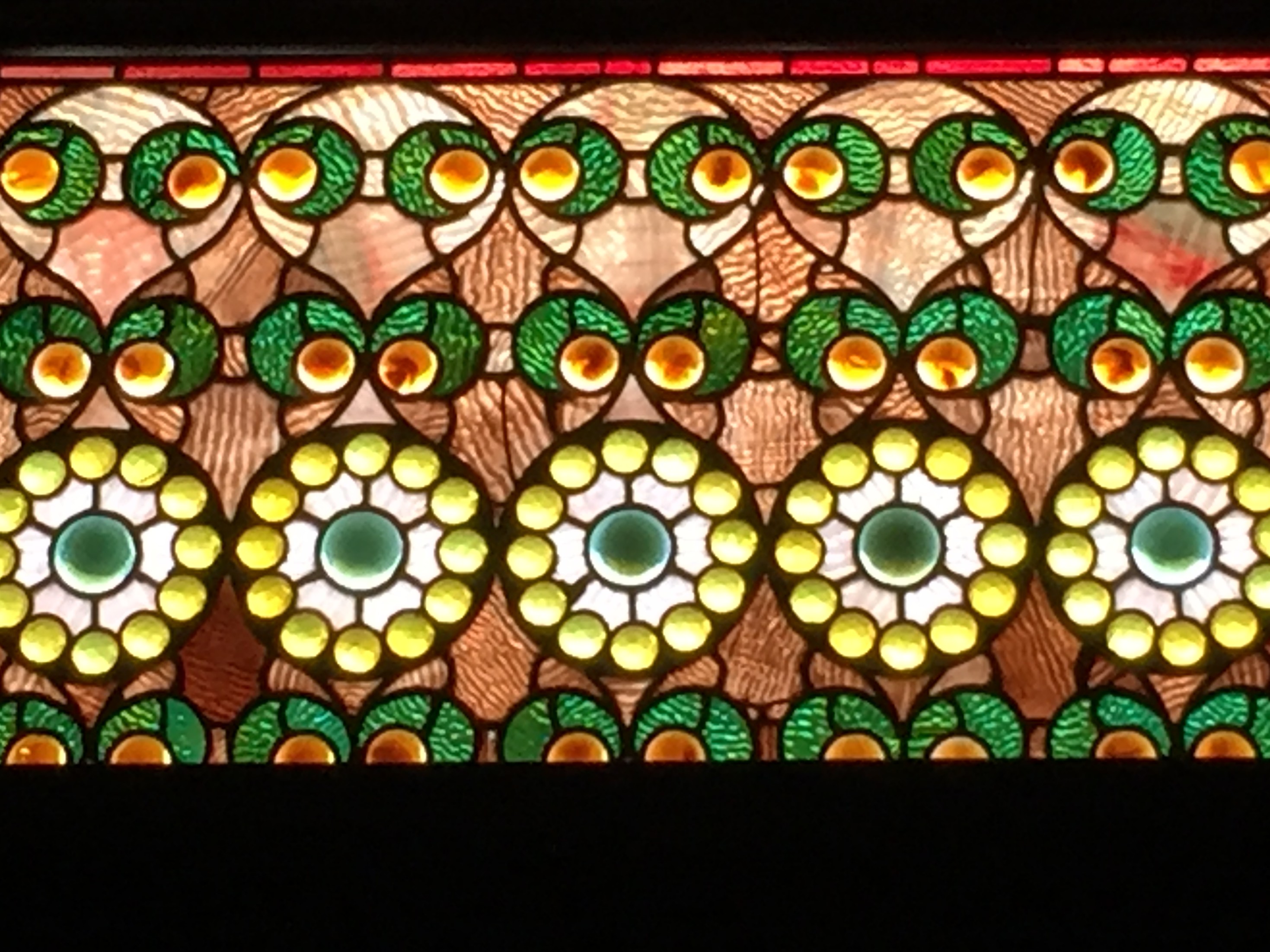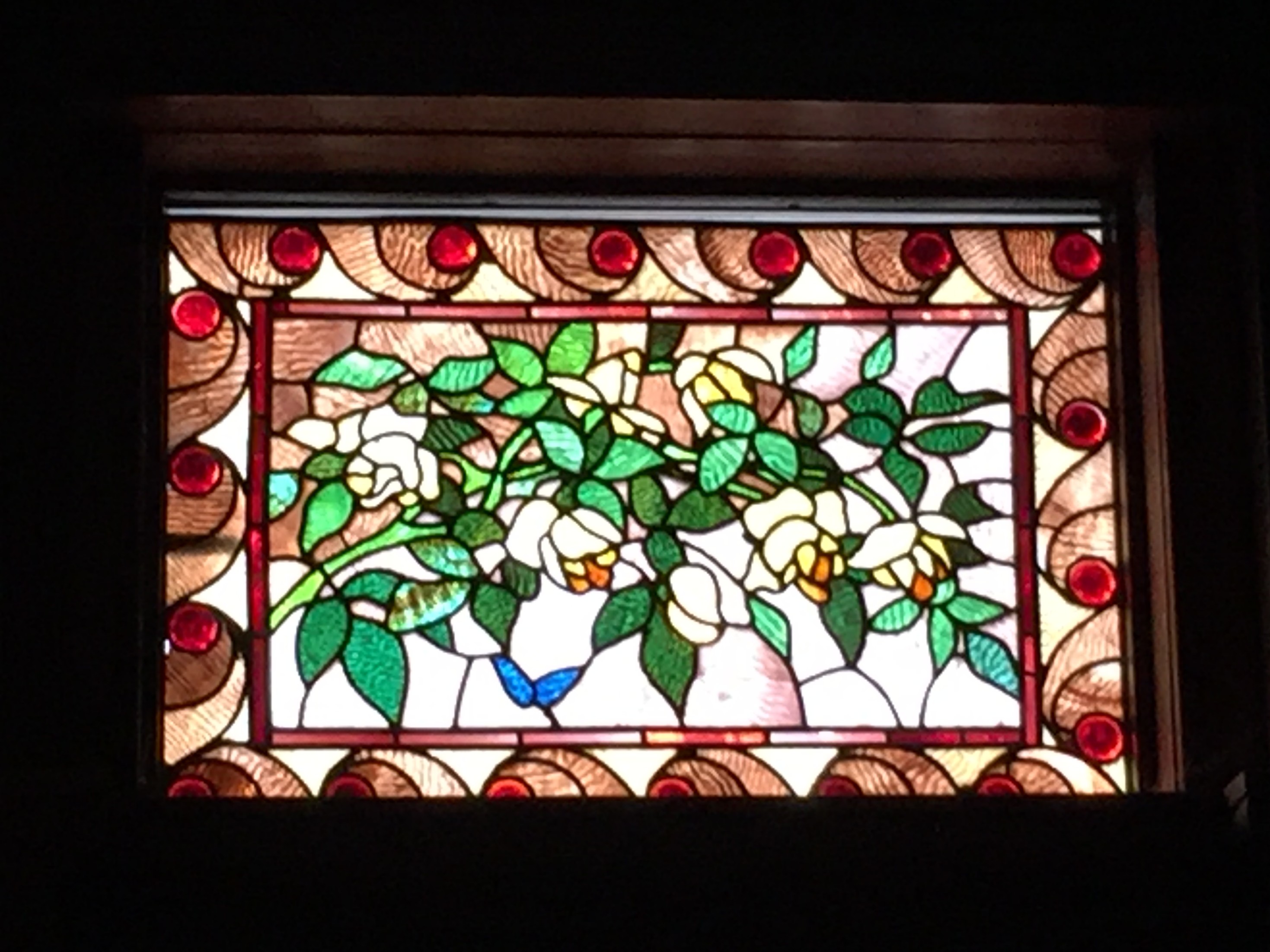 After all those years of exposure to the elements and to the pull of gravity, many of the stained glass windows at the Shakespeare are in need of restoration. We have been taking them out a few at a time for full restoration, which includes cleaning and complete re-leading. The restored windows are protected with ventilated exterior clear glass to prevent future damages. Come visit them in person to see the dramatic difference!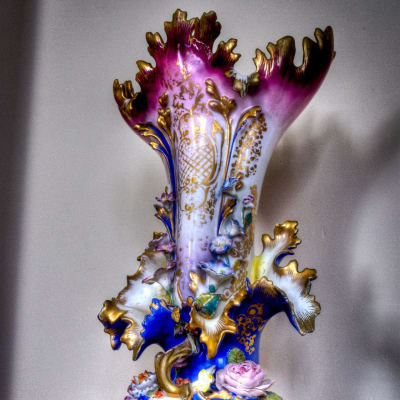 Art & Antiques
See Our Private Art Collection
The Shakespeare Chateau Inn & Gardens hosts an incomparable collection of paintings, sculpture, antique furniture, and accessories, many of which belong to a private collection. Many of the pieces are of museum quality, and together represent a lifetime of collecting. Visitors to the Chateau love to view and discuss the fine art collection that is hosted here.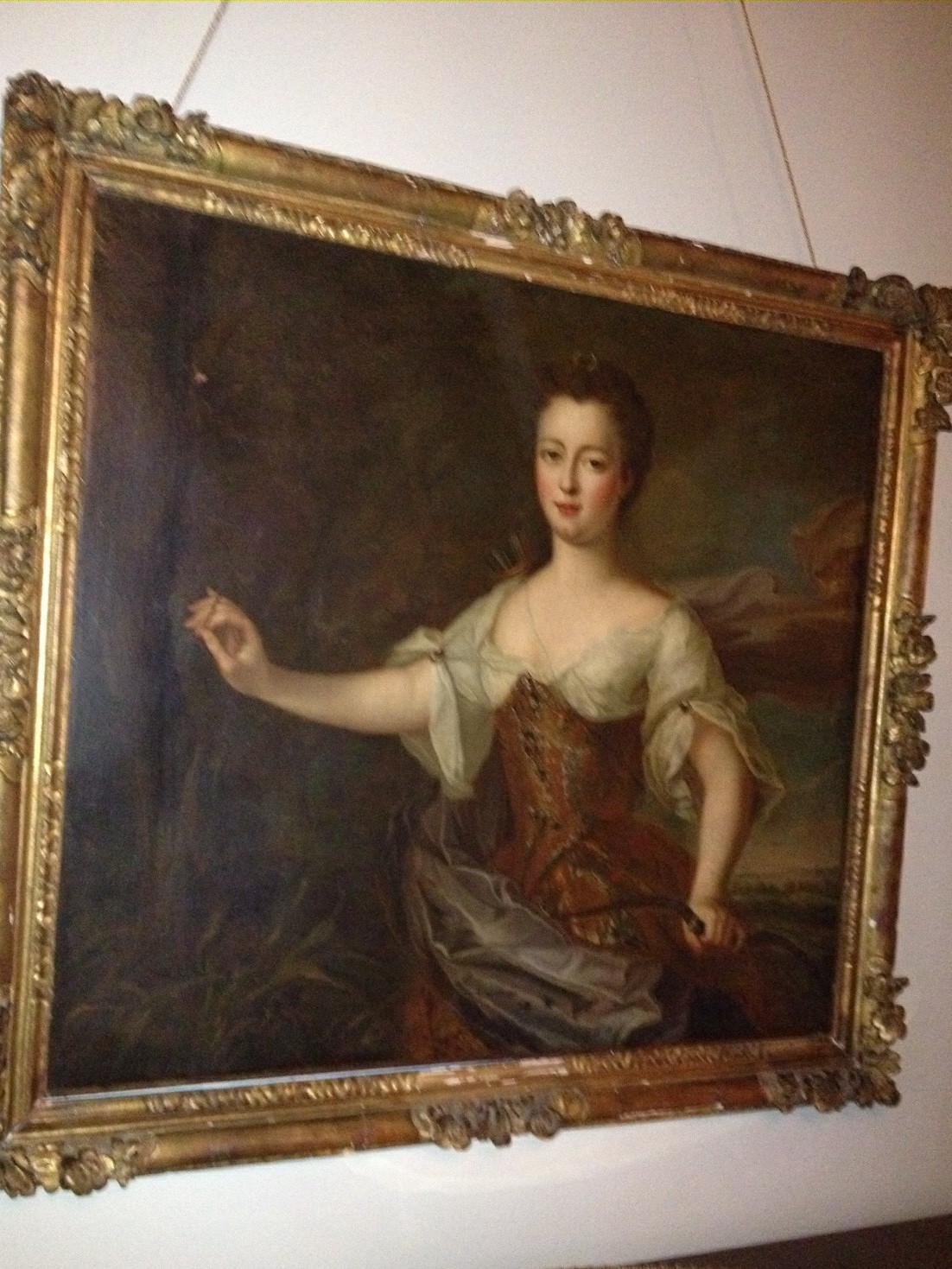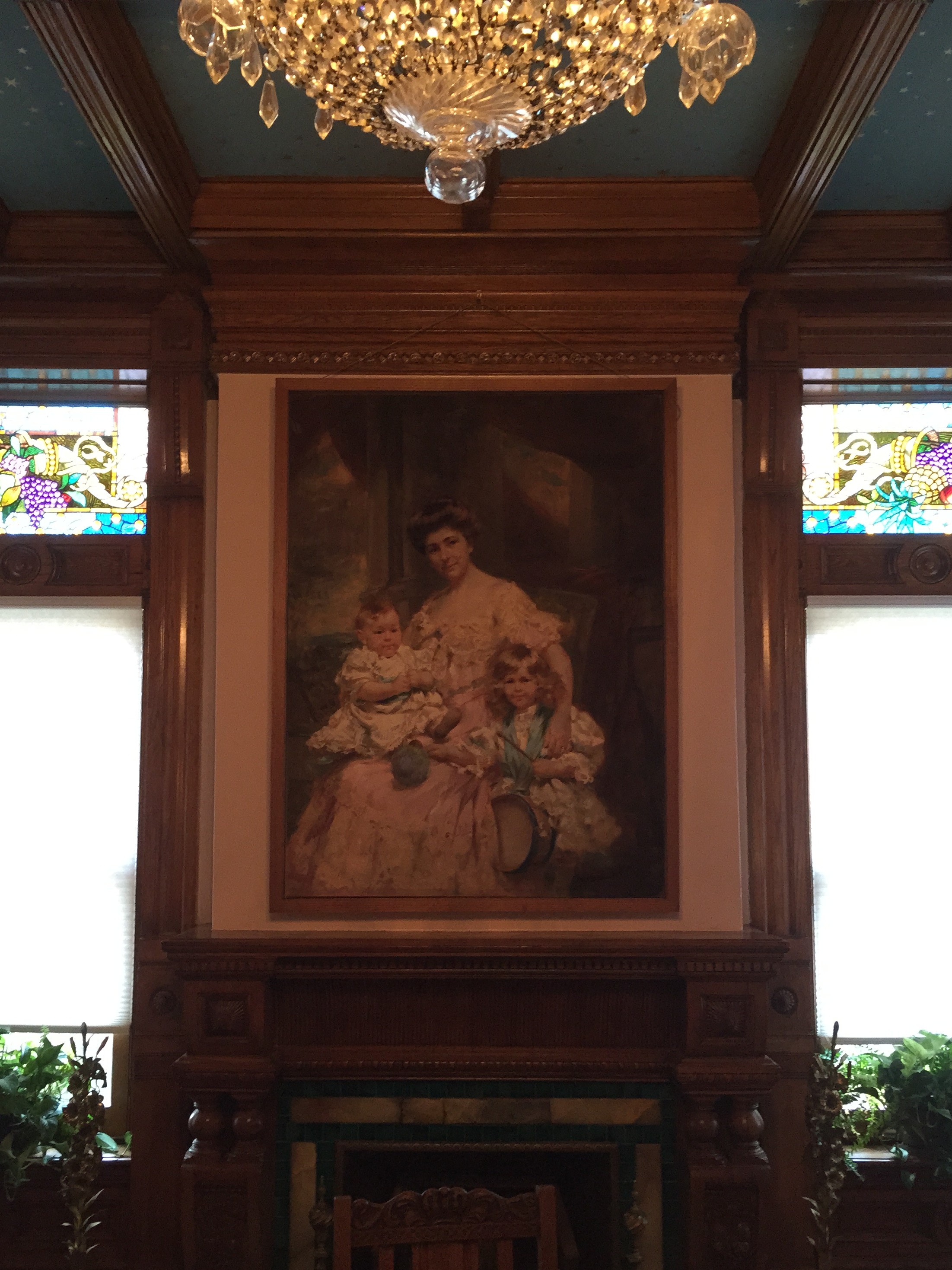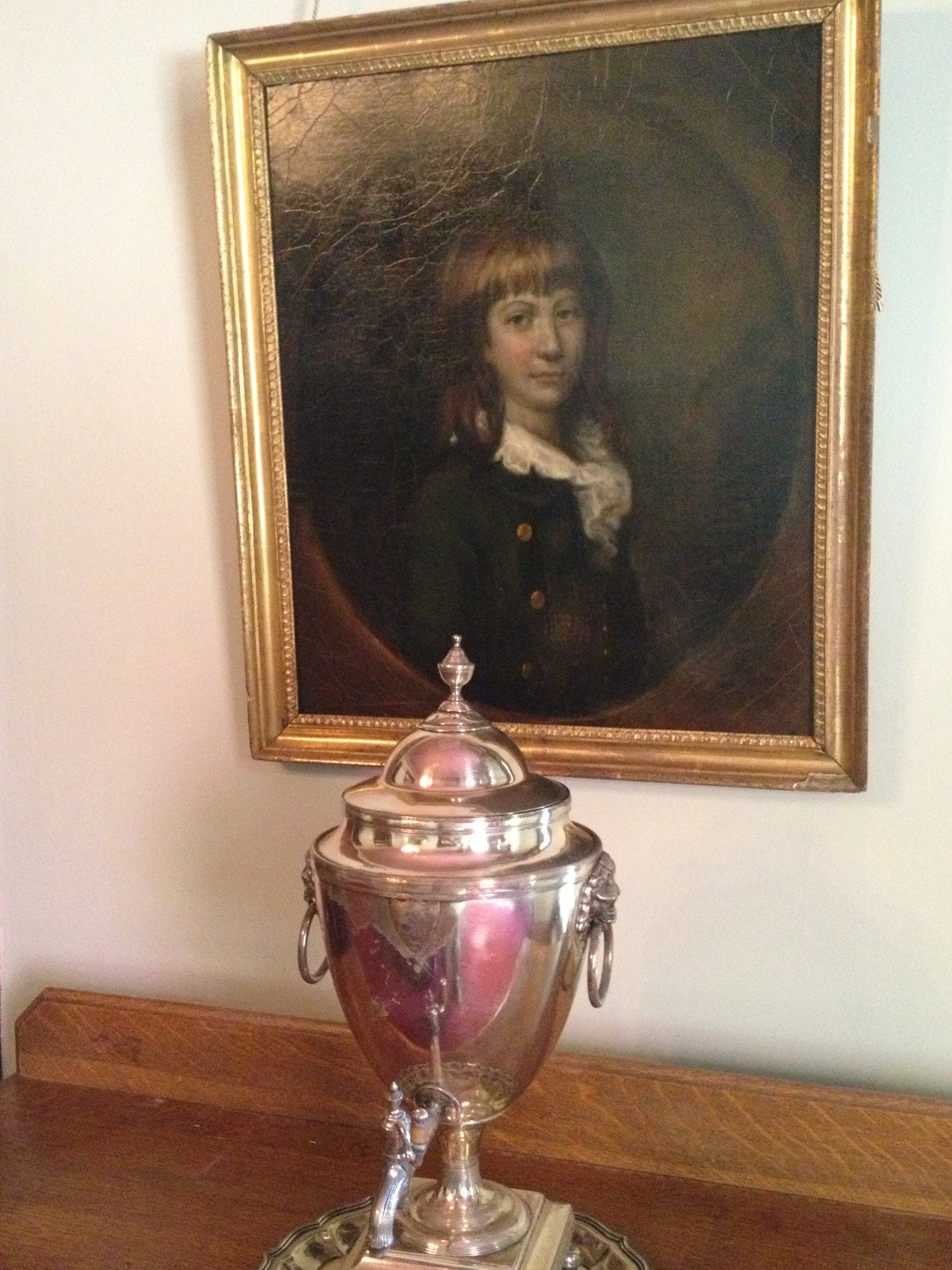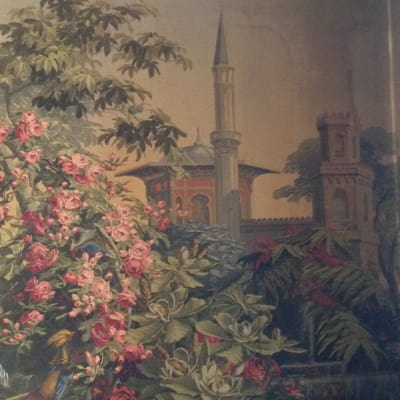 Zuber Wallpaper
The Zuber Company of Rixheim, France has been making scenic (panoramic) wallpaper since 1797, the era of Naopoleon Bonaparte. One of the French national treasures, Zuber still has a showroom in Paris, France (and a few other select places, including New York City) where patrons can view and order their products. The wallpaper is printed using hand-carved wood-blocks selected from a library of over 100,000 such blocks featuring exquisite designs of foliage, flowers, monuments, birds, fountains, ruins, and more. Although it had been popular in Europe for over a century, Zuber wallpaper gained popularity with the moneyed class in America after the company was an exhibitor at the 1904 World's Fair in St. Louis, Missouri. So prized is this wallpaper that salvaged fragments are often framed and traded at upscale auction houses like Christie's and Sotheby's. During the "camelot" era of the 1960s, Jackie Kennedy had panoramic Zuber wallpaper installed at the White House, where it still hangs today. You can read more about Zuber wallpaper at their website, www.zuber.fr , or read the Wikipedia entry under "Zuber et Cie." which references the Shakespeare Chateau. For an in-depth article about scenic wallpapers go to http://www.owsleyhouse.org/Scenic_Wallpaper.html. And may I suggest spending a worthwhile 10 minutes viewing this video at the Zuber website that offers an intimate view of the manufacturing process:
The Zuber scenic wallpaper at the Shakespeare Chateau was installed about 1920 by the second owners of the house, A.L. and Effie McPherson. The design, first printed in 1848, is called "Eldorado," and according to the Zuber website it uses 210 colors applied with 1554 separate wood blocks.
The colors and images are still bright and clear today after almost 100 years, although the wallpaper now bears a patina of age. Over several periods in the past, it suffered from water damage that caused staining and some deterioration. In September 2014, we had a restoration completed that included securing loose and torn fragments, patching a section that was completely missing, and artistic coloration to match original. Plan a visit soon to view the extraordinary Zuber Parlor at the Shakespeare Chateau.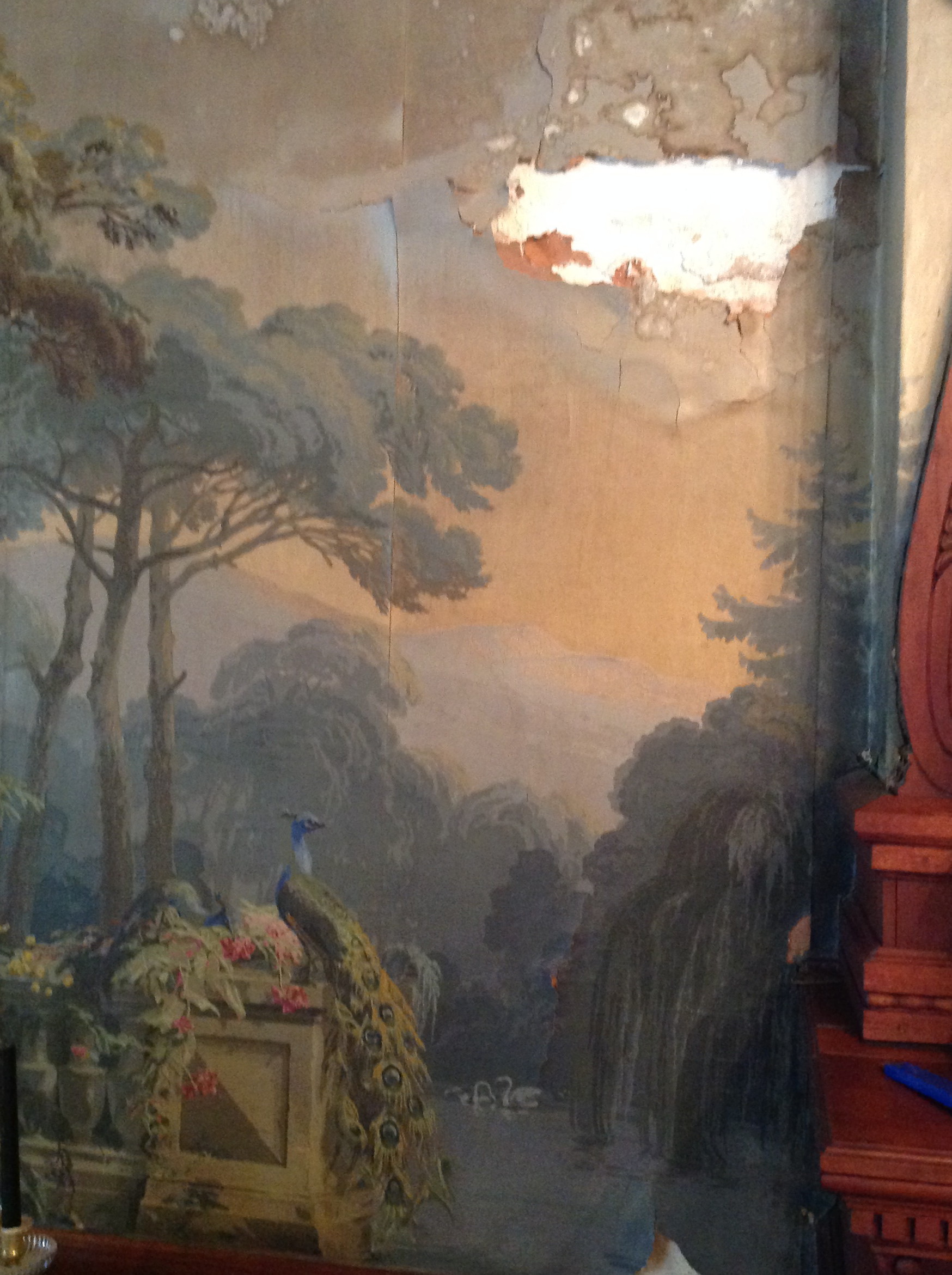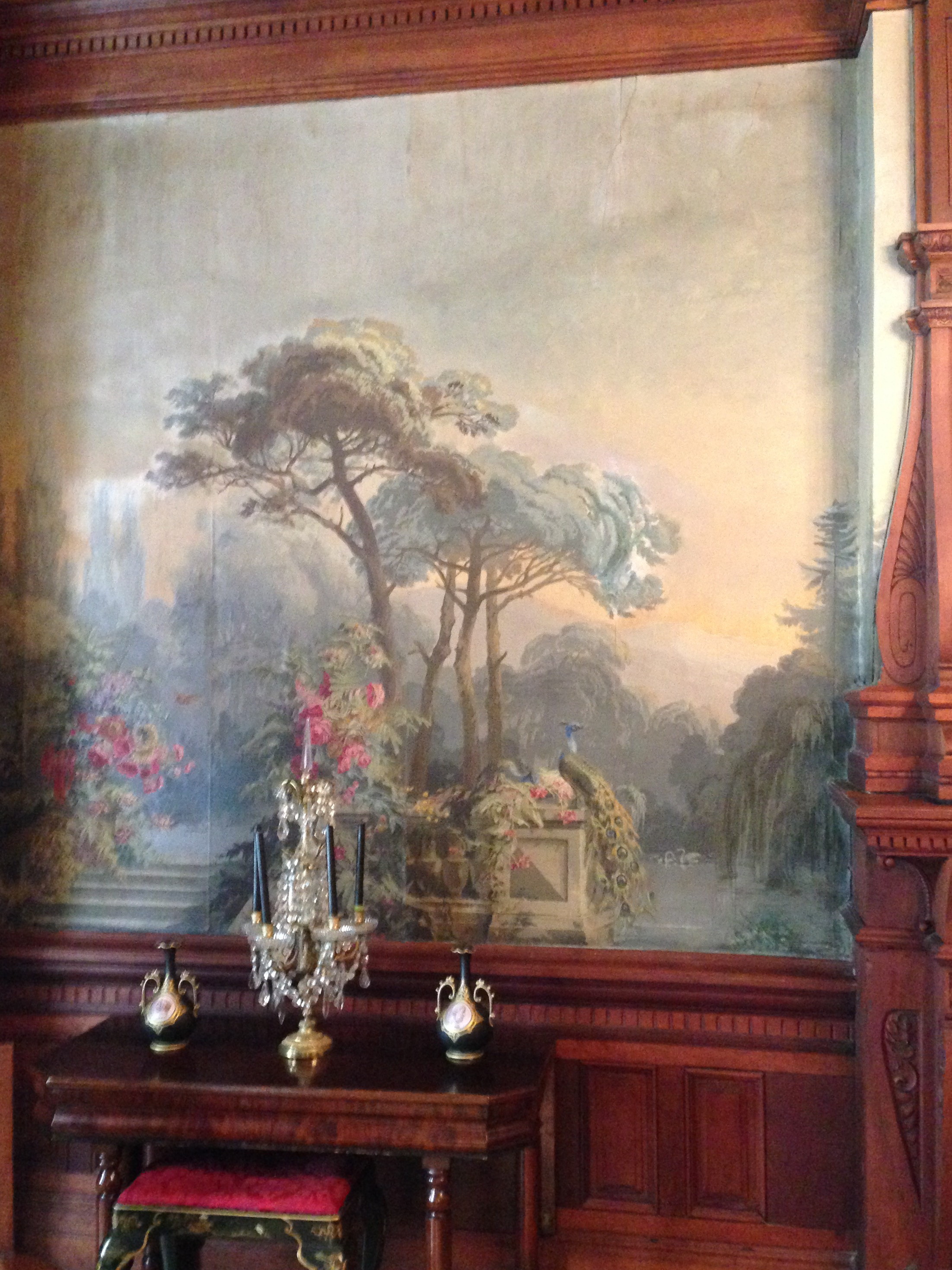 Before and after pictures show the restored panel on the southeast wall.
The following newspaper article about Zuber wallpaper was published on November 26, 1961.
KNOW YOUR ANTIQUES By Ralph and Terry Kovel
Q. The newspapers have been showing pictures of the newly decorated room at the White House. It has "historic Zuber wallpaper." Please explain.
A. Late in the 18th century "scenic" wallpaper became fashionable. The wallpaper pictured events of historic interest. The design did not repeat. The high ceilings and large rooms of the period made it possible to hang the large and colorful pictures.
Jean Zuber of Rixheim, Alsace-Lorraine, was one of the finest makers of scenic wallpapers. His factory first made wallpaper in 1790. The first large scenic "Views of Switzerland," was printed in 1803. The paper was colorful and interesting but the workmanship was crude.
His next scenic, "Views of the Mountains," appeared in 1825. The scenic "Scenes of Brazil," was printed in 1830.
Zuber printed the wallpapers but other artists designed them. The stone-drawn lithographs by Englemann made between 1825 and 1830 were the inspiration for the wallpaper called, "Scenic America," now hanging in the White House. Zipelius and Ehrmann designed the wallpaper.
The first of this paper was printed in 1834. It included pictures of West Point, New York, the Natural bridge of Virginia, Niagara Falls, and the dance of the Winnebago Indians. The paper makes a 48-foot panorama. The pattern was so popular that the paper was reprinted in 1851, 1854, and again in 1913. It has been issued many times since.
Zuber, delighted with the success of the paper re-designed it in 1838. He called it "The War of Independence." The background remained the same, but new figures were drawn in the foreground depicting the events of the Revolutionary war.
Other wallpapers by Zuber were "The Venetian Scenes," a misnamed set of pictures which includes a view of Rome, "Racing Tracks for Horses," "Isola Belle" printed in 1843 and "Eldorado" printed in 1848.
Zuber not only made paper with interesting pictures but was a pioneer in the development of methods of manufacturing wallpaper.
Zuber printed the first colored, continuous rolls of wallpaper in 1829. He installed the first cylinder color press in France in 1850.
The wallpaper usually was six feet in length. In many rooms it was necessary to place a wallpaper dado on the lower few feet of the wall. The papers were numbered and directions were included. They explained the manner in which the papers should be placed on a wall.
Zuber papers were always expensive. The wallpaper for an average room would have cost over $500 in 1824.
The paper for the White House was found hanging on the walls of a home in Thurmont, MD, last year by Peter Hill, a Washington lay preacher. The home was being torn down and Hill purchased the paper for $50 and took it off the walls with a razor blade. Hill sold the paper to the National Society of Interior Designers for $12,500. The society presented it to the White House.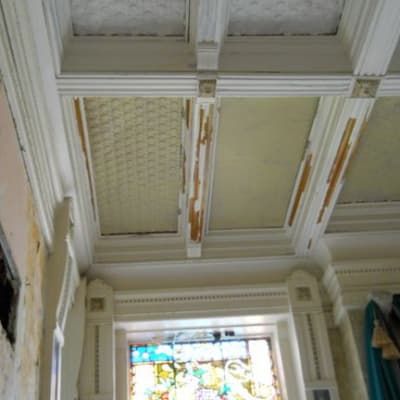 Restoration
Preserving a Legacy
Restoration of the Shakespeare Chateau has continued non-stop since we purchased the 'distressed' building in May 2012.
View the slideshow: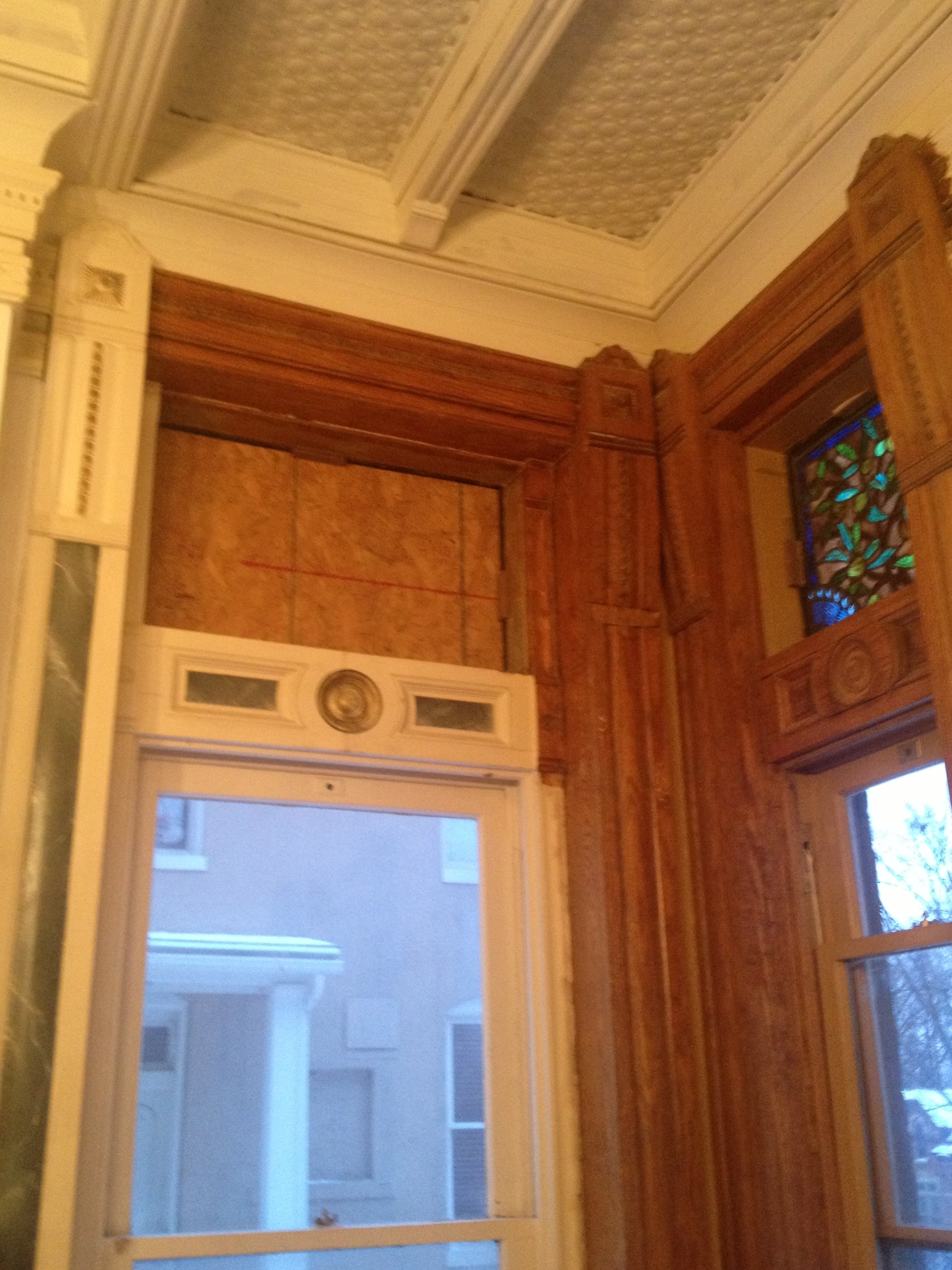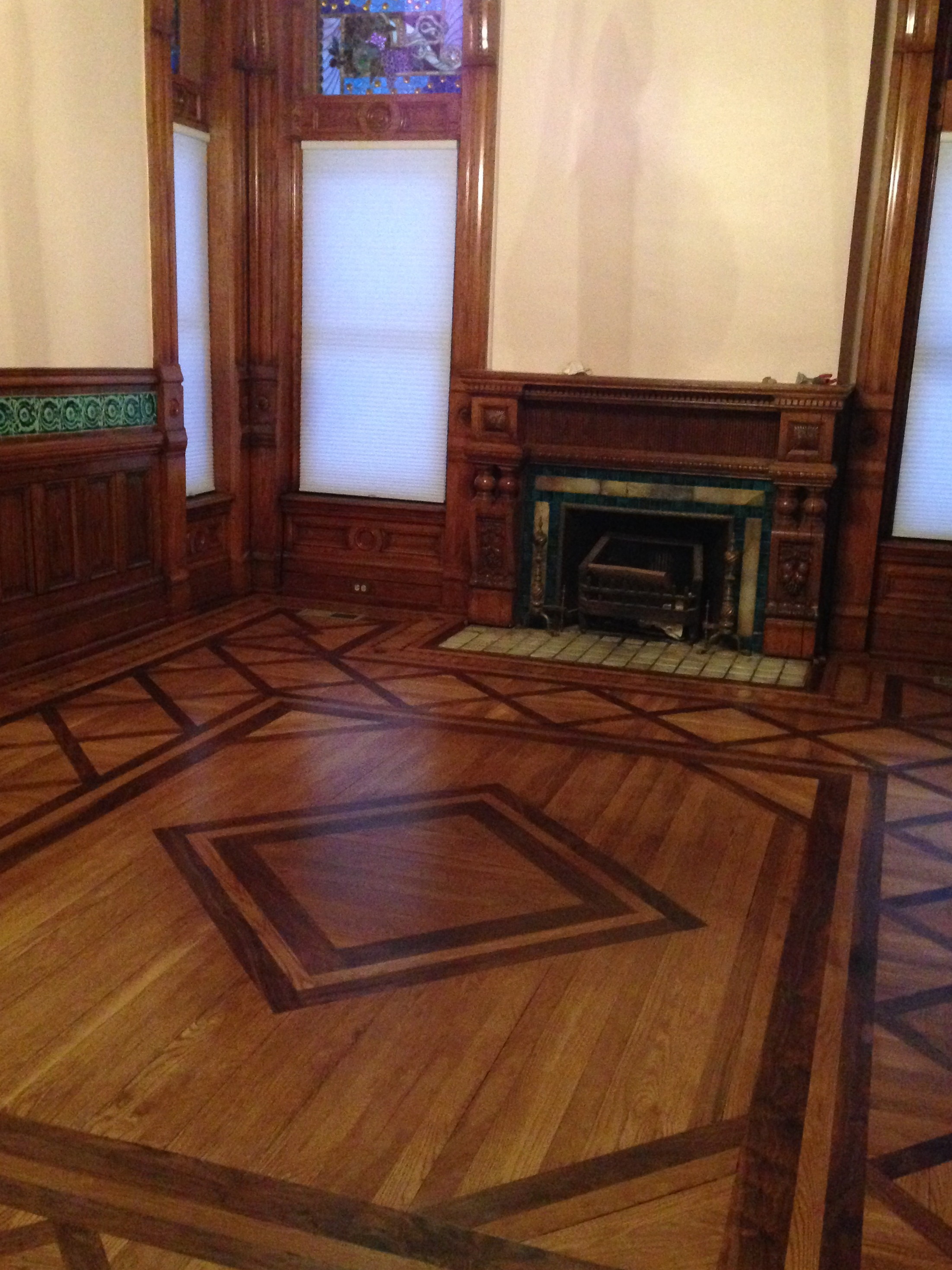 Here shown at left, the faithful reproduction of the parquet floor in the dining room. The original floor suffered irreparable water damage during and following a pipe-burst episode several years ago. The floor has been re-laid to reproduce the original design using the same wood species (oak and walnut). Center, paint is stripped to reveal rich golden English oak woodwork. Finally, the newly finished floor and lovely woodwork (now stripped of paint) are gleaming and ready to welcome guests!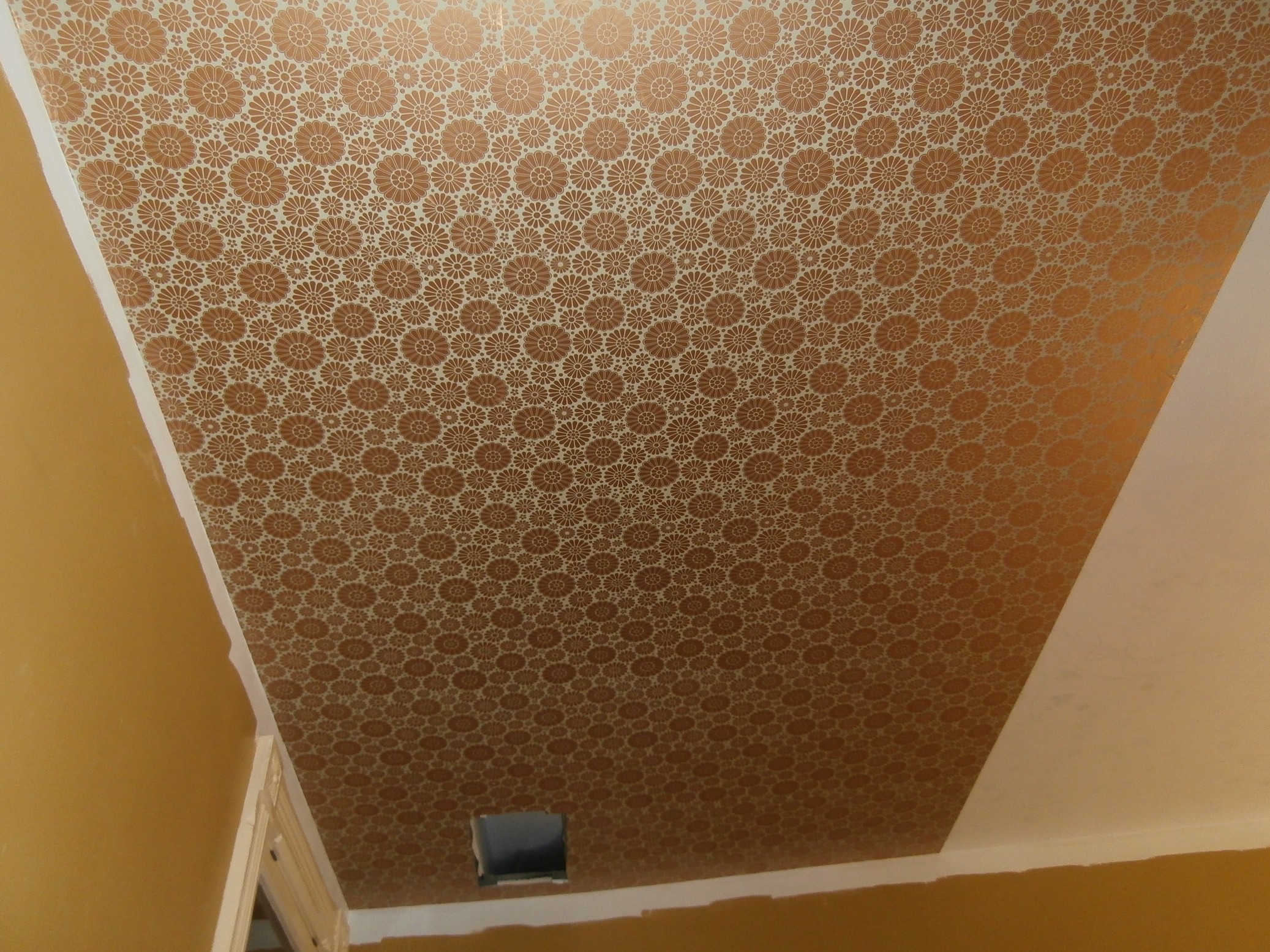 Installation of period-authentic hand-printed wallpaper from Bradbury and Bradbury on the ceiling in the Twelfth Night Room. Metallics add a rich luster to this pattern from Bradbury's "Centennial" room-set.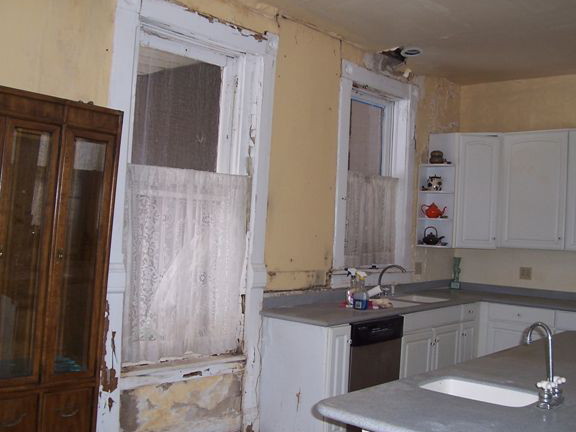 The kitchen was a disaster of peeling paint, heavy water damage, and a sagging floor.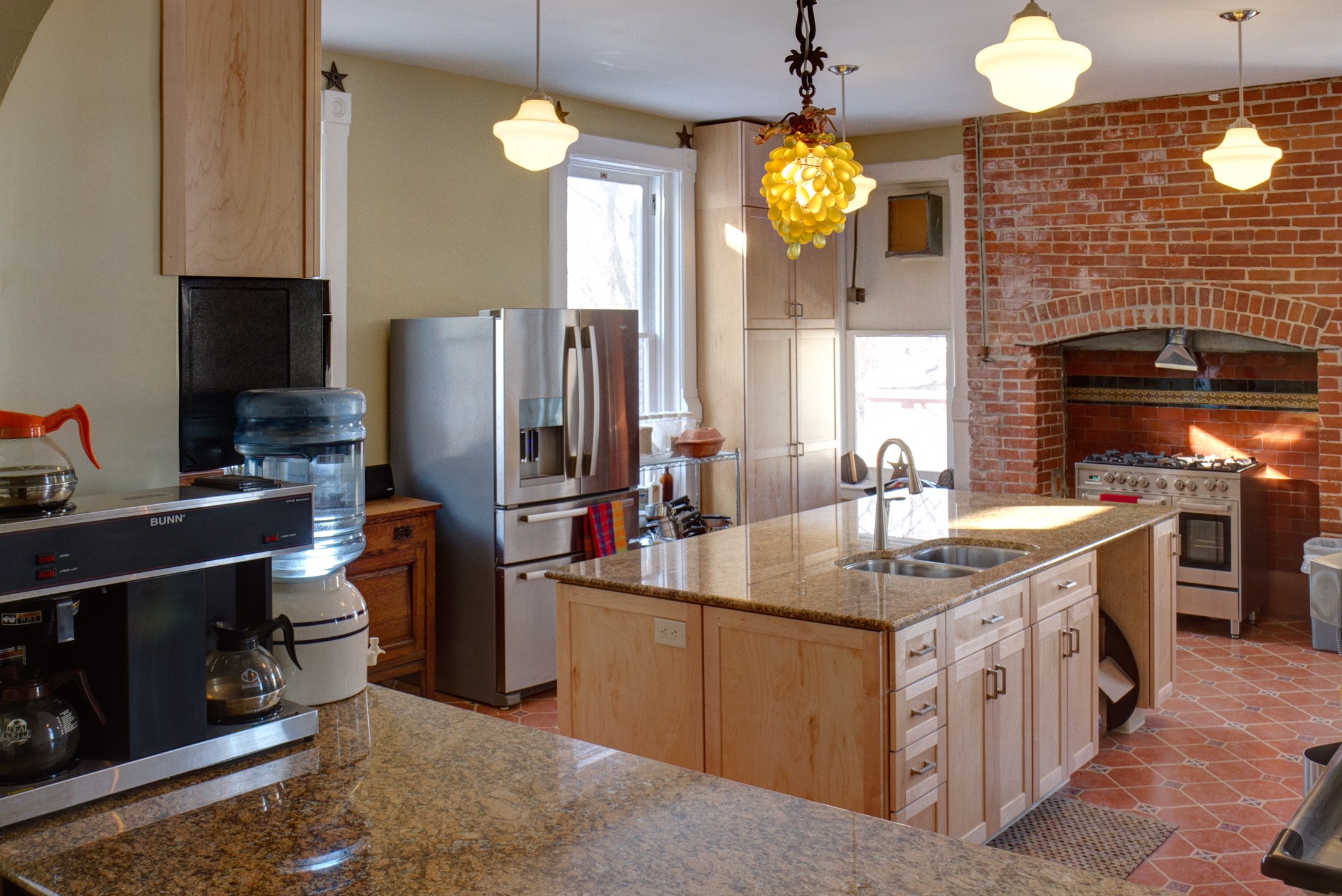 The new kitchen was an epic undertaking, but now is an efficient and welcoming space for food preparation and for chatting with guests.
Please plan on visiting soon to see all of our on-going restoration projects!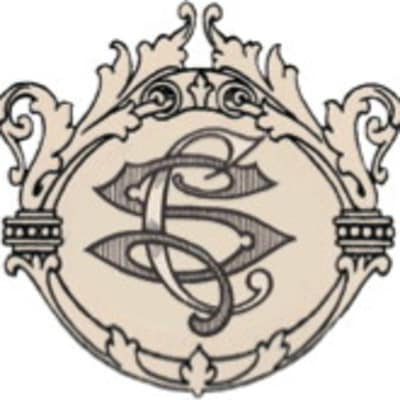 Notable Guests
Authors and Artists
Roberta Brandes Gratz
Roberta Brandes Gratz is an award-winning journalist and urban critic, lecturer and author. One of her recent books is The Battle For Gotham: New York in the Shadow of Robert Moses and Jane Jacobs. Earlier works were the now classic The Living City: Thinking Small in a Big Way, and Cities Back from the Edge: New Life for Downtown. Ms. Gratz visited St. Joseph and the Shakespeare Chateau in June, 2013.
---
Doris Kearns Goodwin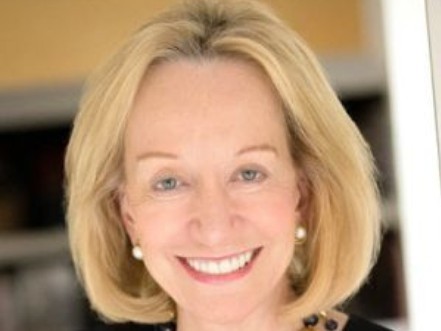 Doris Kearns Goodwin is a Pulitzer-prize winning biographer, historian, and political commentator. She has authored several biographies of US Presidents, including Lyndon Johnson, John F. Kennedy, Franklin Roosevelt, Abraham Lincoln, Theodore Roosevelt, and William Howard Taft. Ms. Goodwin was invited to lecture at Missouri Western University and stayed at the Shakespeare Chateau in October, 2013.
---
Laurel Vartabedian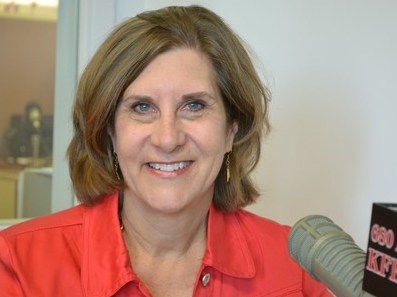 Laurel Vartabedian is an author, scriptwriter, and communication professor. Dr. Vartabedian currently lives in St. Joseph, Missouri, and is active in many aspects of community arts and life. One of her most recent successes is as scriptwriter of the critically acclaimed "Mother Divine" musical. Dr. Vartabedian has visited the Shakespeare Chateau on numerous occasions, and hosted several events here.
---
Caryl Bryer Fallert-Gentry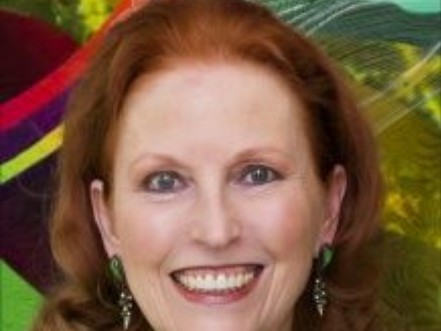 Caryl Bryer Fallert-Gentry is internationally recognized for her award-winning fine-art quilts, which have appeared in hundreds of national and international exhibitions, collections, and publications. Honors include 100 Best Quilts of the 20th Century, Silver Star (lifetime achievement) Award, and selection as one of the thirty most influential quiltmakers in the world. Caryl visited the Shakespeare Chateau in May 2013 and in May 2014.
---
David Sandy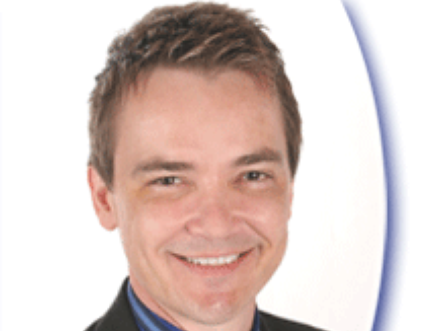 David Sandy is an accomplished award-winning magician who has been entertaining professionally since the 1970s, including regular appearances in Las Vegas and at the Magic Castle in Hollywood, California. He has a unique ability to blend magic, comedy, and illusion into an entertaining program that engages and captivates the audience. His warm personality and superb showmanship make him a popular performer at any event. St. Joseph is fortunate that David lives right here in our community. He has performed at the Shakespeare Chateau on a number of occasions, and developed a show called "Magic and Mysteries at the Mansion."
---
Jamie McGuire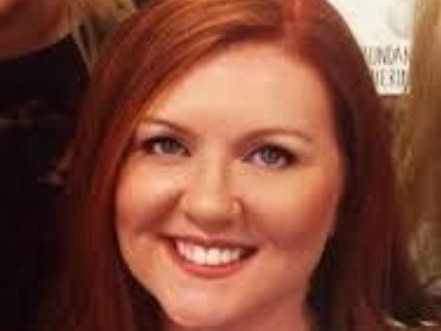 Jamie McGuire is an author of New Adult genre fiction, and has won critical and popular acclaim with her books Beautiful Disaster, Walking Disaster, and many others, and her works often appear on the New York Times, Wall Street Journal, and USA Today bestseller lists. Jamie visited the Shakespeare Chateau in October 2014 for a book-signing event.
---
Max Emanuel Cencic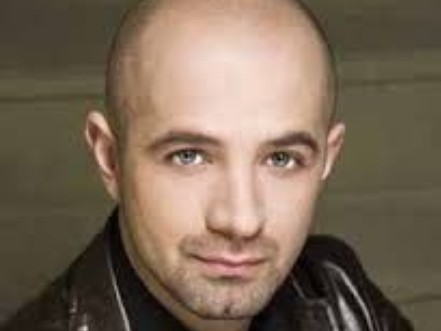 Max Emanuel Cencic is an opera singer, recognized as having the finest countertenor voice of our day. He first became recognized as a member of the Vienna Boys' Choir before launching his solo career in 1992. He has performed at major opera houses and concert venues around the world, and has received many international awards. Mr Cencic visited the Shakespeare Chateau in January 2015.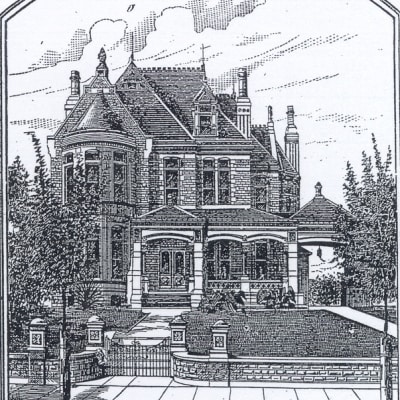 History Notes
Builder of the Chateau
The following article appeared in the St. Joseph Daily Herald on November 29, 1885. It describes the planing mill of Rufus Allen, who built the Shakespeare Chateau and many other mansions and public buildings in St. Joseph and the surrounding area. The article offers fascinating details about Mr Allen, and insight into the industry of home building in the late 19th century. The article also reveals that the cost to build the Shakespeare was $65,000!
OUR CITY INDUSTRIES
The Planing Mill of R.K.Allen, Contractor and Builder
Nos 206 and 208 North Second Street
One of the Most Important and Successful Enterprises in St. Joseph
Of the many progressive citizens whose untiring industry and sagaciously directed enterprise have contributed to the development of the magnificent resources of our substantially and handsomely built up city of St. Joseph, in whose enduring growth as expressed in the beauty of her architectural elegance, every resident in her midst entertains a just pride, there is no man to whose practical and eminently successful efforts the measure of commendation is more justly due than to R.K.Allen.
It will doubtless be of interest to many who will be entertained with the recital of information embodied in this notice to know something of the antecedents of the man whose consummate skill and untiring energy have achieved the important results which have extended the fame of his reputation as a contractor and builder over the vast extent of territory radiating from St. Joseph. Mr. Allen who is a native of the state of Maine, acquired a thorough knowledge of his business in the east where he worked some years at his trade, with various fortune. Meeting with reverse, he subsequently visited the west, and on the twenty seventh day of March, 1859, landed in St. Joseph, with a skillful acquaintance with his business, an inexhaustible fund of energy, a good kit of tools, and a cash capital of two dollars and fifty cents. With, perhaps, little idea of the splendid success that was ultimately to crown his efforts, he immediately secured employment and went to work as a common bench carpenter. His restless energy did not long content itself with this position, and he soon after rented a small frame building, sixteen by forty feet in extent, which stood on the site of the Francis street wing of his present extensive establishment. In this he started, in the summer of 1866, on very moderate scale, a horse-power planing mill, the pioneer enterprise of its character in the city.
Unexpected success following his efforts, he soon became the owner of the building. This was the germ of his present vast business; and Mr. Allen immediately entered upon his uninterrupted career of success. It was not, however, till the year 1871 that steam power was added. The
FIRST FOUR-STORY BUILDING
in the city was erected by him for John Corby. This was the plain but very large structure of brick, which, during the war, and for some years subsequently, when it was accidently destroyed by fire, occupied nearly the whole of the south side of Market Square.
The fourth floor of this building was, for many years, used as a public audience room; and, up to the period of the completion of Tootle's opera house, Corby's was the largest exhibition hall in the city.
The structure of the present mill fronts forty feet on the west side of Second Street, and extends back one hundred and forty feet to the alley. This is a two-story brick building. The wing which extends forty feet from the rear, forms a thirty foot front on Francis street. This latter is a three story and basement brick addition with mansard roof. The
BUSINESS OFFICE
which opens on Second street with an attractive glass front, measures sixteen by twenty-four feet. This is finished in cherry and walnut, and is conveniently and elaborately fixed up with all the necessary appliances proper to such an apartment. This office is presided over by N.D.Goff, the bookkeeper and financial manager of the concern. Mr. Goff, who is a native of this city, is a son of the late A.P.Goff, for many years a well-known business man and prominent citizen of St. Joseph. By means of a staircase of elegant design this office communicates with another on the second floor. This latter, which is also elegantly fixed up, and frescoed in the highest style of art, is the architectural drafting and designing room, in charge of F.I Leyburn, the general foreman of the mill and superintendent of building. Mr. Leyburn is a native of Knoxville, Tenn., and has been a year in his present position.
H.K.Allen, son of the proprietor, is assistant general foreman of the establishment.
Charles E. Lytle is foreman of the sash, door and blind department. Mr. Thomas Toomey is foreman of the
MACHINE ROOM
which measures forty by one hundred and forty feet, and in which are located, with other appliances for the manufacture of wood work, besides ten benches, the following machinery: One large three-knife planer with a capacity for planing a plank twenty-six inches wide by fourteen inches thick; two circular rip saws; one eighteen inch and one twelve inch moulding machine; a door-clamp, a jointer; two tenon machines, a blind style-borer, a mortising machine; two tongue and groove machines; a blind-slat tenoner, one boults-carver, one hollow auger machine, two emery grinders, two turning lathes; one hand and one scroll saw, a railroad cut-off saw, rip saw, one circular sandpapering machine, and grindstones.
In the basement of the three-story wing of the building which, as before stated, fronts on Francis Street, is located the thirty horsepower engine which supplies the entire motive force of this various machinery. This department is in charge of Mr John Montgomery, the chief engineer. Here are kept in store constantly, five car loads of coal.
On the second and third floors of this extensive building are located the
DRY KILNS
in which the lumber used in the mill is thoroughly seasoned for use. The capacity of these kilns is twenty thousand feet of lumber.
The entire building is heated by steam.
A RAILWAY
is now being constructed for the purpose of connecting the shops of the factory or mill with the lumber yard in the rear, in which the superior class of lumber is stored. This yard is entirely inclosed in sheds.
R.K.Allen has, besides this, a yard in the rear of the Saxton National Bank, in which was usually stored about ten car loads of _______ lumber.
In this connection it is proper to state that, in his contracts, he supplies the entire _____ of material employed, including brick work as well as metal and wood work. The
AMOUNT OF LUMBER USED
in his numerous contracts, nearly all of which is brought direct from the pineries, amounts, annually, to largely over one million feet. He is now in receipt of two hundred thousand feet of pine lumber from Chicago. The number of hands employed by him average one hundred, during the building season. That number were paid off at the mill yesterday evening.
Besides the large amount of building which constantly engages his attention, he manufactures and ships all kinds of _______ lumber and ____ work, of which latter he makes a specialty, not only over a large part of Missouri, but westward as far as points in Wyoming and Colorado, and over the vast extent of intervening territory.
Some idea of the importance of the business of R.K.Allen may be inferred from the fact that during the unusually active building season of 1881 his contracts amounted to over
SIX HUNDRED THOUSAND DOLLARS
In the past fifteen years his business has averaged two hundred and fifty thousand dollars annually. Among the prominent building erected by Mr. Allen in this city, may be mentioned the Union Depot, which cost eighty-five thousand dollars; the Pacific House, eighty thousand dollars; the Chamber of Commerce, sixty thousand dollars; the residence of A.N.Schuster and N.P.Ogden, which cost each sixty-five thousand dollars, those of M.A.Reed and R.L.McDonald, which cost thirty thousand dollars; C.D.Smith's residence thirty-five thousand dollars; William E. Hosea's and George Buell's, which cost each twenty five thousand dollars. Also the J.W.Bailey building, Tootle, Hosea & Co's business house; the Englehart and the Lockwood buildings; the Christian and the Episcopal churches; the large addition to the Convent of the Sacred Heart, and other important contracts too numerous to mention.
He also built the court house and jail in Maryville, Mo., which cost ninety thousand dollars; the public school building in the same town a thirty thousand dollar structure, and the dwelling of A.T.Ellis which cost fourteen thousand dollars. He also put up the forty thousand dollar court house in Rock Port, Mo.; the sixty thousand court house of Mount Ayr, Iowa; the Paxton hotel in Omaha, Neb., which cost one hundred thousand dollars; the twenty-seven thousand dollar public school building of Beatrice, Neb; Col Thomas Harbine's twelve thousand dollar residence in Fairbury, Neb., and many others.
Of work completed this season, and in course of construction, may be mentioned the Gentry county court house, a forty thousand dollar contract; repairs of the Buchanan county court house, seventy-five thousand dollars, and other contracts varying from twenty-five hundred to ten thousand dollars each. Besides this work, he has furnished a large number of plans and specifications.
R.K.Allen's business for the present year aggregates nearly, if not quite, three hundred thousand dollars.
---
N.P. Ogden Obituary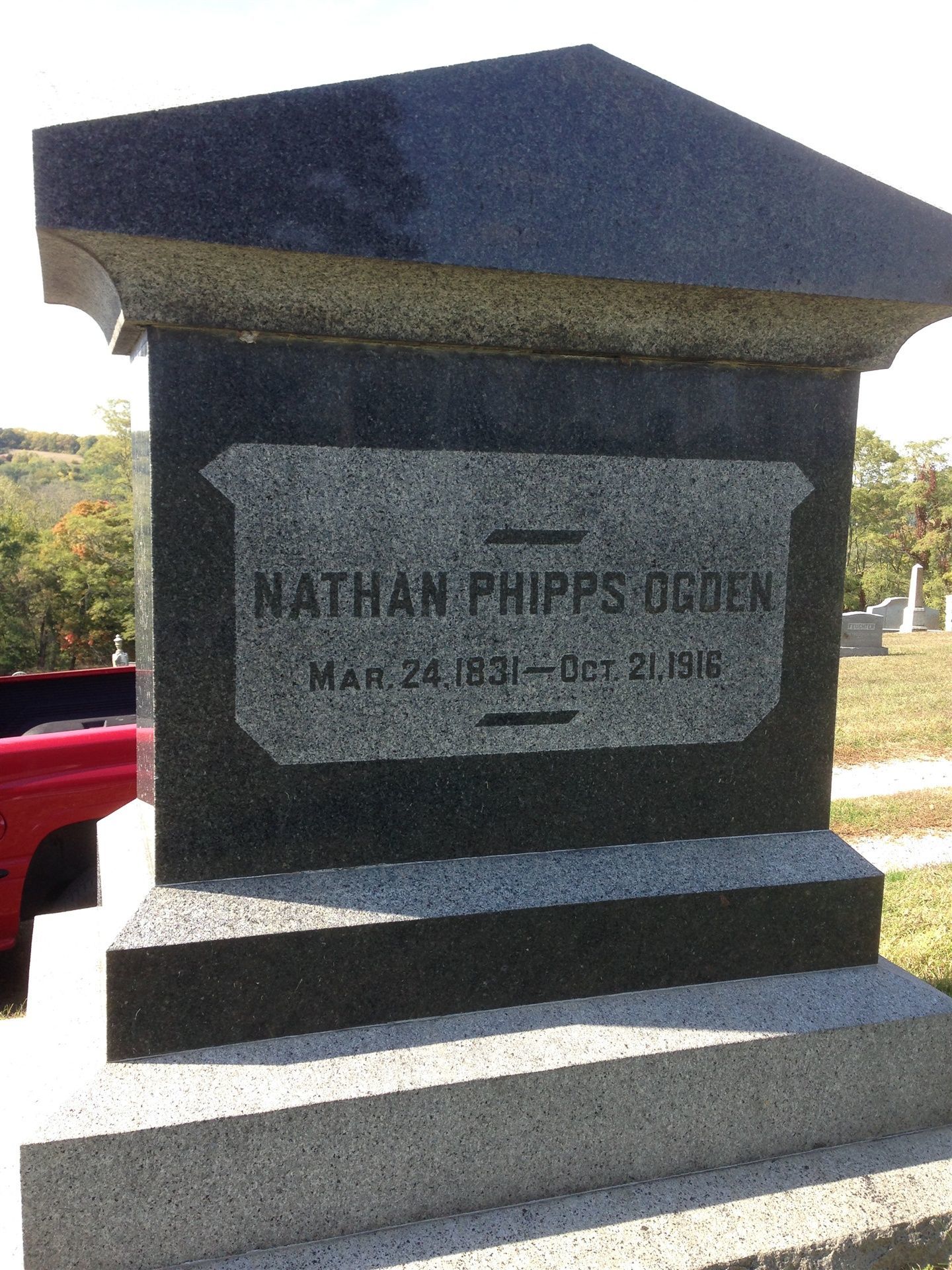 Dateline 10/27/1916
Weston, Missouri
Col. Nathan Phipps Ogden formerly of Weston, pioneer, banker and capitalist of St. Joseph, died in that city Saturday night, after failing health of several months duration. He had been almost blind for the last three years and while he went but little he enjoyed the visits and calls from his many friends and acquaintances. He was born in Ohio eighty-six years ago, spent his boyhood in Pennsylvania. In 1857 he came by boat to Missouri, teaching school in Clay and Platte counties. During the Civil War he was a merchant at New Market where his store was raided by Quantrel's band. After this raid he removed the 'remainder of his stock' to Weston and continued business. He was a member of the Methodist church and remained active in that faith until death. During the erection of the present Methodist church in Weston he was one of the most generous donors. He received the title of colonel during the Civil war, as he was given command of a company of Platte county troops to cope with the invading bushwhackers. Soon afterward he became sherriff of Platte county for two terms. In 1880 he removed to St. Joseph, where with the late Col. James N. Burnes he was interested in railroad projects and banking business. He was president and director of the First National Bank of St. Joseph until failing sight caused him to retire. Some thirty years ago he built one of the most beautiful homes in that city, and also several business houses there and in Atchison. He was married twice. His first wife was Mrs Elmarine Pence King who died in 1899. He was again married to Mrs. Jesse Donald Ashmun of Atchison who survives him. He is also survived by a brother James Ogden, of Oil City, Pa., and four step children Edward A. King, St. Joseph; Clarence King, Springfield; Donald Ashmun, Atchison; Mrs. Suzanne Ashmun Brown, St. Joseph. Col. Ogden was a man of striking appearance, always attracting notice when on the streets; he was educated, refined, gentlemanly and thoughtful of others, hence he made friends and kept them.
After funeral services in St. Joseph, the remains were brought to Weston Monday afternoon in a special car, accompanied by many St. Joseph friends. Rev. P.T. Munro pastor of the Frances Street M.E. church in that city concluded the service at the grave, after which all that was mortal of Col. N.P. Ogden rested beneath a canopy of flowers, while his spirit returned to the God who gave it. Below is only a partial list of those from a distance who were here for the funeral: Mrs. N.P. Ogden, Mr. and Mrs. Don Ashman, Miss Sue Ashman, R.L. McDonald, R.M. Abescrombie, Miss McDonald, Chas. Guthrie, Mr. Guthrie, Mr. and Mrs. E.A. King, Miss Watson, Mr. Ogden, Mr. Moss, Mr. McDonald, Wm. Bartlett, Mr. Davis, Mr. Edwords, Rev. D.D. Munro, Mr. Heaton of St. Joseph.
Undated
Weston, Missouri
HERE'S THE REAL "STRAIGHT OF IT"!
Recently there was mention in one of our columns about the Ogden Building, believed to be the corner building now occupied by "Red" Frazer with apartments upstairs.
At that time some slightly "twisted facts" crept into our history, which we wish now to correct.
Ogden first appears in Paxton's Annals in 1857 when as secretary of the Platte Country Railroad he pledges $10,000 if the railroad passed through Platte City and New Market. He (and the company) asked the County Court to buy $200,000 of stock on the same condition.
In June of 1864 his store at New Market was looted by Quantrill's Band who attacked Capt. Snyder's company near Arnoldsville and killed several men. In August of that year he moved his business interest to Weston. He succeeded W.T. Woods as sheriff May 1, 1865 to serve several terms.
Mrs. N.P. Ogden (1) was Elmarine Pence, daughter of Edward Herndon and Lucinda Snell. She and Wm. A. King were married in 1859. Having divorced him, she married Ogden 20 years later.
She had two sons, Clarence and Ed King. The latter married Eva, daughter of John Mayo Railey.
The Kings lived in what is known as the Collison home now and Mrs. King taught music there in order to provide for her children.
Mrs. Pence-King-Ogden was an aunt of Oscar D. Gunthrie (sic) father of Mrs. Irene Guthrie Loyles.
After Ogden moved to St. Joseph in 1880 he was associated again with James Nelson Burnes and became immensely wealthy. Their home was a show place. Their coachman was Dick Stark, a brother of "Aunt Martha" the Negro servant for so many years in the Owens family here.
Mrs. Loyles cannot remember ever having heard that her father lived at the King home but thinks that Ogden once owned the now famous Bonifant farm in Fancy Bottom.
"Will Parker, brother of Jess, for a while our houseman and later faithful servant in the Malin-Shortridge home, was the doorman at the Ogden mansion," recalls Mrs. Loyles, who with her mother visited there many times. "He would come to the door with his silver tray, accept your 'calling card' to take to the mistress of the home for approval before admission to the home and would return to admit the caller with a flourish."
---
St. Joseph Society 1888
St. Joseph Daily Gazette January 15, 1888

The Past Week's Events in Social Circles
Reception to Mr. and Mrs. E.A. King at Col. Ogden's
On Thursday evening last the splendid residence of Mr. and Mrs. N.P. Ogden, 809 Hall Street, was thrown open for the reception of the many friends of Mr. and Mrs. E.A. King. This residence is undoubtedly the finest and most convenient in the west for the accommodation of so large an assembly as responded to the invitation of Mr. and Mrs. Ogden on Thursday evening, and from eight o'clock until midnight a merry throng passed to and fro through the elegant rooms, and were well taken care of by the host and hostess, ably assisted by Miss Marie McKinney, Mr. and Mrs. H.M. Tootle, Mr. and Mrs. C.S. Sanders and Mr. Clarence King, all of whom put forth their best efforts and were, as a matter of course, uniformly successful.
The guests were ushered through the marble floored reception hall, up the softly carpeted stairs, guarded on either side by huge griffins over which hung a splendid painting, "The King of Beasts," by that queen of animal painters, Rosa Bonheur.
.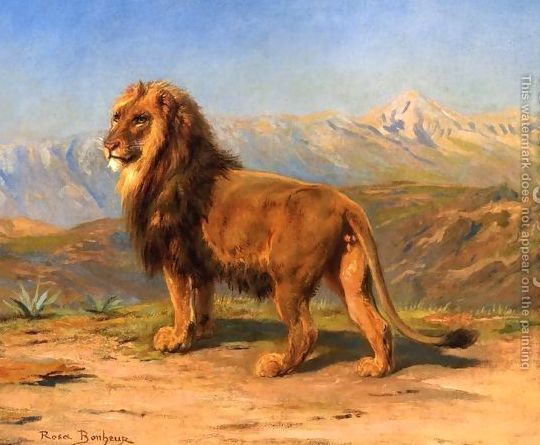 The two large stained glass panels, "Night" and "Morning" at the head of the stairway, lighted by numerous gas jets, looked more handsome than ever and drew forth the admiration of every guest.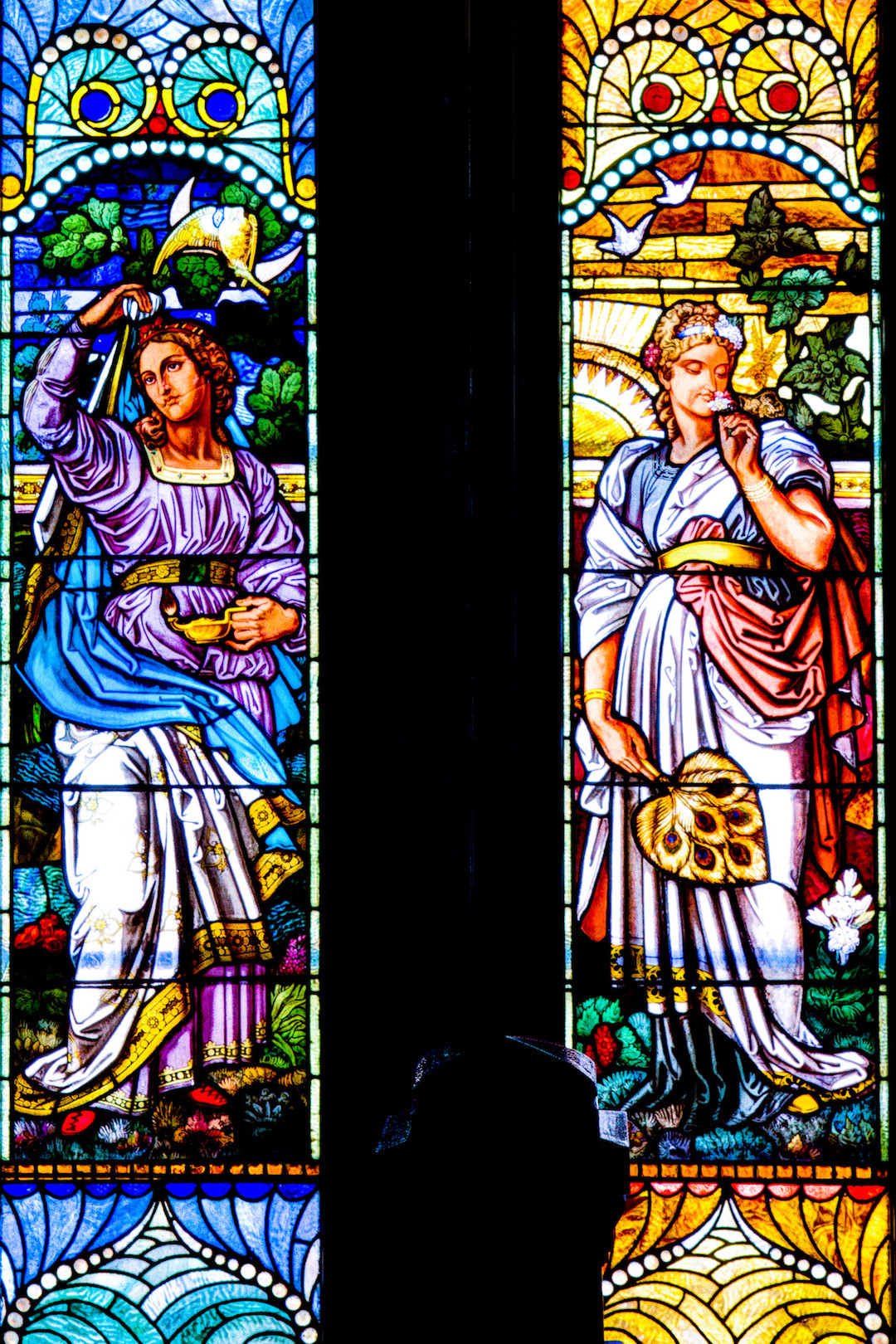 The parlors, with the handsomely decorated walls and rich furnishings, the reception hall an elegant apartment, the music room, the library, the oriental room and the blue room, were all thrown open and shone with especial brilliance over the reception of the gay and more than happy throng.
The ladies on arrival were received in the rooms of Mr. and Mrs. King and Mr. Clarence King in his apartments took care of the gentlemen.
The dining-room was a fit place to make the epicure feel that during his life he had merely heard of the good things of life, yet had been unable to partake of them.
The furniture is of antique oak and the sideboard and mantels were banked high with the rarest cut flowers, and handsomely decorated with cut glass and silver. The center figure of the tables was a large ship decorated with beautiful flowers and so placed on a large mirror as to apparently float on the surface of a lake. There were flowers and fruits in profusion and the splendid supper prepared by Mrs. Sparks was the most elegant collation ever spread.
During the evening Prof. Winkler's full orchestra of ten pieces furnished beautiful music. The costumes worn by the ladies were handsome, all of them, many of which were made for the occasion.
Those present were:
Mr. and Mrs. C.F. Burns, Mr. and Mrs. J.M. Kemper, Mr. and Mrs. W.P. Jones, Mr. and Mrs. Geo. C. Hull, Mr. and Mrs. S.B. Green, Mr. and Mrs. Franklin Porter, Mr. and Mrs. D.M. Steele, Mr. and Mrs. J.W. Myers, Dr. and Mrs. T.H. Doyle, Mr. and Mrs. J.J. McDonald, Mr. and Mrs. J.D. Strong, Mr. and Mrs. Geo F. Hoagland, Mr. and Mrs. A.A. Gower, Mr. and Mrs. J.C. Forsee, Mr. and Mrs. J.D. Flint, Mr. and Mrs. R.U. Hendricks, Mr. and Mrs. J.C. Wyatt, Mr. and Mrs. R.S. Campbell, Mr. and Mrs. John Townsend, Mr. and Mrs. Dudley Smith, Mr. and Mrs. John Doniphan, Mr. and Mrs. James Hull, Mr. and Mrs. C.A. Shoup, Mr. and Mrs. Joshua Motter, Mr. and Mrs. W.W. Wheeler, Mr. and Mrs. W.P. Hall, Mr. and Mrs. A.B. Sowden, Mr. and Mrs. L.C. Burns, Mr. and Mrs. Byron Shoecrafts, Mrs. A.P. Welch, Dr. and Mrs. Banes, Dr. and Mrs. Runcie, Dr. and Mrs. W.I. Heddens, Mr. and Mrs. W.A.P. McDonald, Mr. and Mrs. W.F. McLean, Mr. and Mrs. M.A. Reed, Mr. and Mrs. J.K. Kercheval, Dr. and Mrs. A.H. Darby, Mr. and Mrs. S.M. Nave, Mr. and Mrs. J.G. Schnieder, Mr. and Mrs. E.S.F. Gatch, Mr. and Mrs. Geo. R. Mann, Mr. and Mrs. James Craig, Mr. and Mrs. B.R. Raeyard, Mr. and Mrs. Jos. P. Grubb, Mr. and Mrs. J.S. Lemon, Mr. and Mrs. A.E. McKinney, Dr. and Mrs. W.L. Heddens, Mrs. L.T. Ballinger, Mr. and Mrs. W.H. Gordon, Mr. and Mrs. Melvin Corby, Rev. and Mrs. William C. Brown, Mr. and Mrs. J.W. McAllister, Mr. and Mrs. R.L. McDonald, Mr. and Mrs. Hustin Wyeth, Mr. and Mrs. S.A. Walker, Dr. and Mrs. W.C. Boteler, Dr. and Mrs. R.E. Smith, Mr. and Mrs. Jno. Donivan, Sr., Mr. and Mrs. R.D. Gilkey, Mrs. I. Rogers, Mr. and Mrs. C.B. France, Mr. and Mrs. E. Lindsay, Mr. and Mrs. C.D. Smith, Mr. and Mrs. J.T. Ransom, Colonel and Mrs. A.N. Schuster, Mr. and Mrs. J.W. Hingston, Mr. and Mrs. F.B. Hooper, Mr. A. Kirkpatrick, Mrs. Sarah Gallaher, Mr. W.T. Hosea, Mr. F. Smith, Mr. and Mrs. T.M. Haynes, Mr. and Mrs. Louis Motter, Mr. and Mrs. Winslow __dson, Dr. and Mrs. Joseph Malin, Dr. and Mrs. H.W. Westover, Mr. and Mrs. E.L. ¬¬__rney, Mr. and Mrs. G.G. Parry, Mr. and Mrs. E.W. Ray, Dr. and Mrs. John S. Logan, Mr. and Mrs. H.M. Tootle, Mr. and Mrs. C.B. ___aders, Colonel and Mrs. A.C. Dawes, Mr. and Mrs. C.L. Vandeventer, Mr. and Mrs. J. Evans, Mr. and Mrs. H.A. Hansen, Mr. and Mrs. T.F. Indermill, Mr. and Mrs. H. Perry, Mr. and Mrs. Samuel L. Smith, Mr. and Mrs. W.D.R. Motter, Mr. and Mrs. Martin, Dr. and Mrs. Knight, Mrs. E.M. Wallingford, Mrs. Susan Smith, Major and Mrs. J.F. Johnson, Mr. and Mrs. P. Pattison, Mr. and Mrs. F.M. Tufts, Mr. and Mrs. W.F. Merrill, Dr. and Mrs. H. Gar___, Mrs. E.R. Inslee, Mr. and Mrs. Geo. W. ___low, Mr. and Mrs. C.M. Edwards, Mr. and Mrs. A. Nave, Mr. and Mrs. N.J. Riley, Mr. and Mrs. C.A. Tawney, Mr. and Mrs. H. George, Mr. and Mrs. Hilton, Mr. and Mrs. U. Buell, Mr. and Mrs. R.J. Woodson, Mr. and Mrs. A.L. Kerr, Mr. and Mrs. S. Wood___, Mrs. Eilen Frame, Major and Mrs. S.A. ___sh, Mr. and Mrs. D.C. Lyon, Mr. and Mrs. Englehart, Elder and Mrs. M.M. Goode, Mr. and Mrs. J.S. Brittain, Mr. and Mrs. A. Smith, Mr. and Mrs. Ed Van ____y, Mr. and Mrs. T.H. El___, Mr. and Mrs. Louis Hax, Jr., Mr. and Mrs. J.A. Corby, Mr. and Mrs. W.G. ___eigh, Mr. and Mrs. E.E. McCammon, Mr. and Mrs. R.W. Todd, Mr. and Mrs. T.E. Campbell, Mr. and Mrs. W. Calhoun, Mr. and Mrs. S.C. Woodson, Mr. and Mrs. Geo. I. ___mer, Mr. and Mrs. R.R. Calkins, Mr. and Mrs. H.A. Smith, Mr. and Mrs. C.S. Kemper, Mr. and Mrs. T.N. Trice, Mr. and Mrs. T.F. ___tts, Mr. and Mrs. S.R. Greer, Mr. and Mrs. J.N. Burns, Mr. and Mrs. A.M. Dough___, Mr. and Mrs. M. Lincoln, Mr. and Mrs. __ Lacy, Mr. and Mrs. John McCord, Mr. and Mrs. Eugene Soper, Mr. and Mrs. W.F. McDonald, Mr. and Mrs. M.R. Jones, Mr. and Mrs. T.F. Tootle, Mr. and Mrs. Wm. Jones, Mr. and Mrs. I. Well, Mr. and Mrs. Kunt, R.E. Loan, Mrs. Van Riley, Mrs. Laura ¬¬¬___er, Mrs. G.E.F. Burton, Mrs. S.S. Vance, ¬¬___ Westley, Mrs. Helen Kircheval, Mr. and Mrs. Shrader, Mr. and Mrs. J.S. Thorpe, Mr. and Mrs. James Kay, Mr. and Mrs. J.D. ___deon, Jr., Mr. and Mrs. T.K. Wilson, Mr. and Mrs. F.R. Snyder, Mr. and Mrs. S. McDonald, Mr. and Mrs. S.N. Smith, Mr. and Mrs. T.P. Maupin, Mr. and Mrs. M.S. Nor___, Mr. and Mrs. J.S. Johnson, Mr. and Mrs. W.C. Sipple, Mr. and Mrs. R.T. Davis, Mr. and Mrs. R.L. Beaumont, Mr. and Mrs. ___ Collins, Mr. and Mrs. T.A. ___ler, Mr. and Mrs. R.C. Rogers, Mr. and Mrs. Ashmale, Leavenworth, Mr. and Mrs. J.W. Moore, San Antonio, Tex., Mr. and Mrs. J.W. Alexander, Gallatin, Mr. and Mrs. J.M. Railey, Mr. and Mrs. E.W. Railey, Miss Emma Railey, Miss Bette Railey, Mr. and Mrs. D.M. Railey, Mr. and Mrs. J. Hardesty, Mr. and Mrs. L.M. Wells, Miss Elvira Wells, Mr. and Mrs. O.D. Guthrie, Mr. and Mrs. R. Jacquemin, Weston, Mo., Mr. and Mrs. J.H. Waugh, Columbia, Mr. and Mrs. W.C. Wells, Platte City, Judge T.H. Talbott, Platte City, Mrs. Matie Sawyer, Leavenworth, Lieut. And Mrs. S. Wolf, Ft. Spokane, W.T., Mr. and Mrs. C.J. White, Mr. and Mrs. R.S. Adkins, Mr. and Mrs. J.G. Adkins, Mr. and Mrs. Jas. Gibson, Mrs. Emma Vinyard, Mr. and Mrs. D.H. Winton, Mr. and Mrs. A.T. Ball, Mr. and Mrs. George C. Smith, Mr. and Mrs. W. McFarland, Mr. and Mrs. W.A. Wilson, Mr. and Mrs. R.W. Hocker, Miss Mary Leach, Miss Anna Buck, Kansas City, Mr. and Mrs. M.R. Singleton, Mr. and Mrs. J.B. Kitchen, Omaha, Lieutenant and Mrs. L. Craig, Mr. and Mrs. J.G. French, Mr. and Mrs. J.P. Hicks, Mr. and Mrs. Charles Warner, Mr. and Mrs. V.N. Crandall, St. Louis, Dr. and Mrs. B.R. Fakes, Miss Rena Slayden, Ocola, Fla., Mr. S.W. Slayden, Mr. and Mrs. J.E. Mayo, Waco, Texas, Mr. and Mrs. Fakes, Ft. Worth, Texas, Mr. and Mrs. J.T. Litchfield, Mr. and Mrs. Robert Robertson, Miss Emma Reed, Liberty, Neb., Mr. and Mrs. Donald, W.T.F. Donald, Mr. and Mrs. W.F. Donald, Mr. and Mrs. J. Donald, Miss Susie Donald, Mr. and Mrs. J.G. Greenwalk, Dr. and Mrs. Charles, General and Mrs. W.W. Gustine, Atchison, Kansas, Misses McDonald, Vernon, McKinney Ballinger, Burns, McCord, Brittain, Buck, Kansas City, Ely, Welch, Shultz, Hilton, Ketcham, Lincoln, Buell, Smith, Lulu Smith, Fessenden, Hawks, Curtis, Tuft, Perry, Goode, Turner, Burton, Furguson, Ridenbaugh, Edwards, Dougherty, Smith, Kerr, Constable Relchard, Bassett, Hughes, Forsythe, White, Parker, Wells, King, Howe, Schuster, messrs. R.E. Turner, G.W. Samuels, A.M. Saxton, Thomas Frazier, John Anthony, Arch Gracie, Joe Moss, James Corby, Frank Smith, Herbert Coulter, E.E. Phelps, J.F. Pitt, John Brady, Joe Roberts, Alex McDonald, Ed Smith, Chas. France, Robert France, Lee Gallagher, John Burns, Jr., D.D. Burns, O.M. Spencer, P. Bassett, James Davison, George C. Smith, Charles Berry, Charles Kessler, Richard Kessler, Thomas Heddens, Robert McDoanld, Ed Edwards, Bates Weakly, Lol Weakly, Father Newman, Father Graham, Samuel S. McCord, John McNair, Edson Gregg, E.S. Douglas, Russell Douglas, A.H. Hoffman, J.W. Kimball, George Cooke, Charles Weihl, John Trice.
Transcription Notes.
Mr. and Mrs. E.A.King, for whom Colonel Nathan Ogden and his wife Elmarine Pence Ogden held the reception, were the son (Edward) and daughter-in-law of Elmarine. Elmarine had been previously married in 1859 to King, and had two sons, Edward and Clarence. She was divorced from King when she married Ogden in 1879. Nathan and Elmarine moved to St. Joseph from Weston in 1880, and by 1885 the mansion at 809 Hall Street was finished. Elmarine passed away in 1899, and Nathan re-married the following year in 1900 to Jesse Donald Ashmun. Nathan died in 1916.
The list of over 500 attendees includes virtually all of the society folk of the day. The family names Tootle, Wyeth, Schuster, Smith, Hosea, Hax, McDonald, Wyatt, Doniphan, and many others were well-represented among the guests.
This article was transcribed from a print taken from microfiche. The print is poor in quality, and some portions are illegible. The illustrations were added by the transcriber, and did not appear in context of the article as published in 1888.
Figure 1. The King of Beasts, painting by Rosa Bonheur, 1880
Figure 2. Photograph of stained glass in the stairwell at 809 Hall Street depicting Night and Day. Photo by J.S. Cunningham, 2012.
IRM 11/13/2013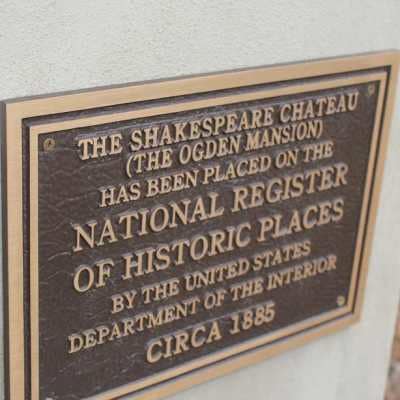 Life at the Chateau
The Shakespeare Chateau Newsletter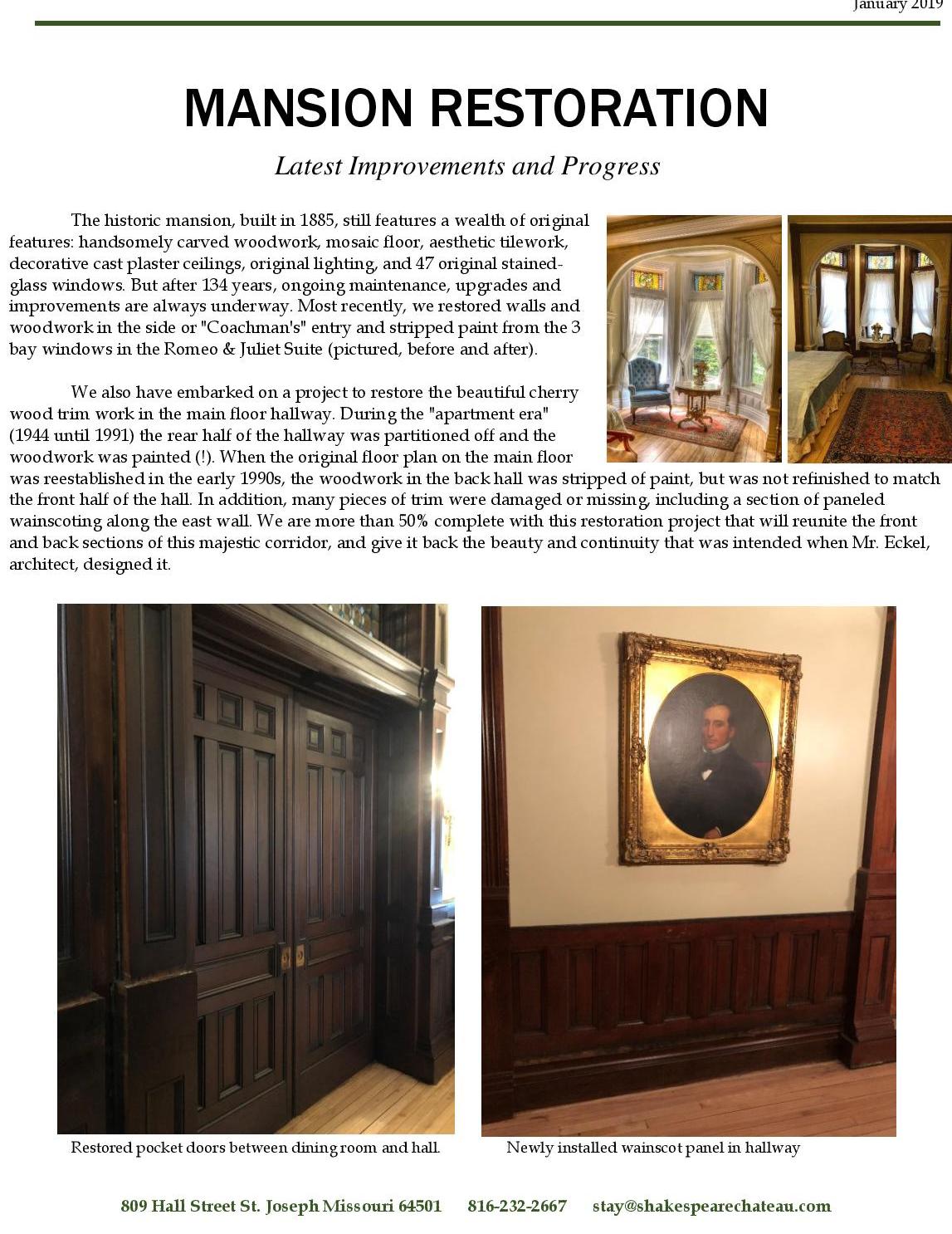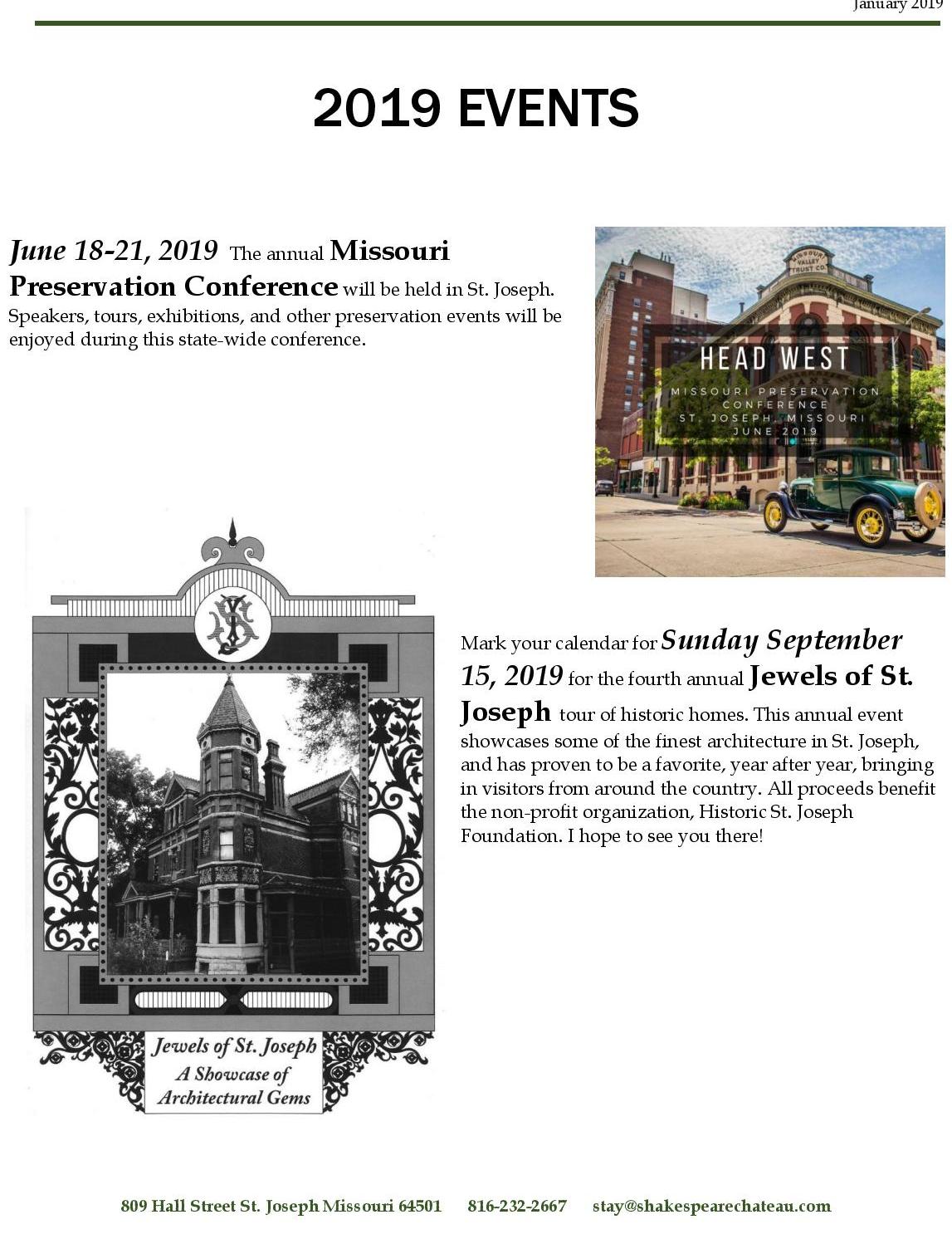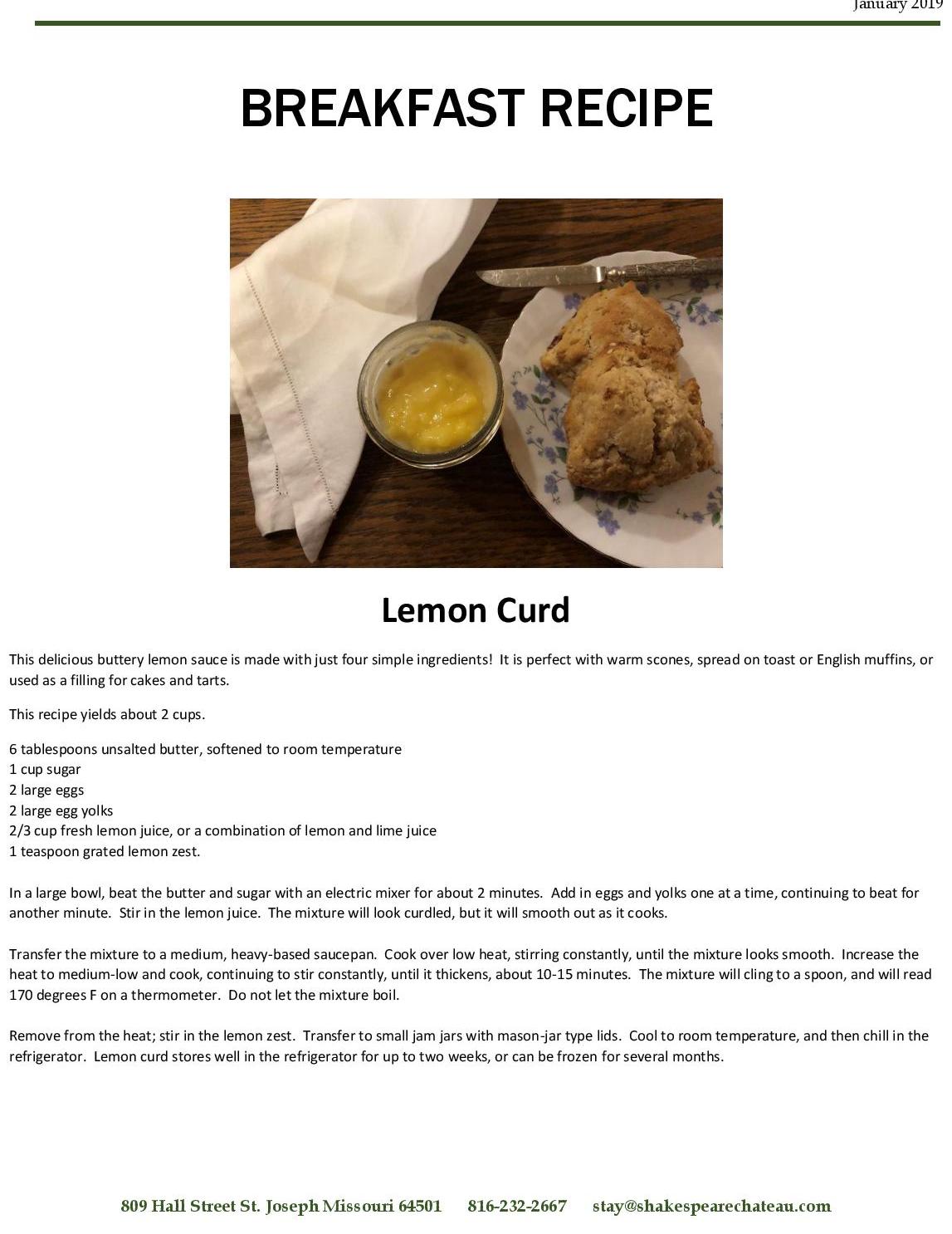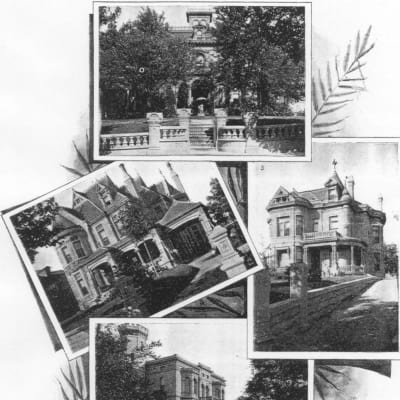 Preservation Philosophy
"As a nation, we have allowed too much of our heritage – the places and objects that comprise the collective memory of America – to deteriorate. These remnants of our past could, if protected, illuminate and inspire future generations. Their preservation is our sacred trust."
From "Saving America's Treasures" Foreword by Hilary Rodham Clinton
"We must welcome the future, remembering that soon it will be the past; and we must respect the past, remembering that it was once all that was humanly possible."
George Santayana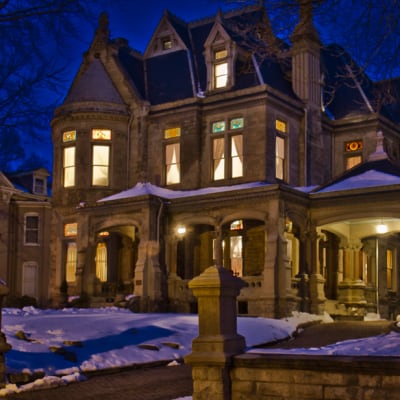 Drone Video of the Inn, shot in August 2015