Saint Joseph's Luxury Bed and Breakfast
To my Guests,
Health and safety, always a top concern here at the Shakespeare Chateau, has become even more critical as the novel Coronavirus pandemic spreads. I know that you want to protect yourselves when you travel, and I can assure you that I have taken every possible measure to ensure sanitation here at the Inn. In addition, I will always follow the recommendations of the CDC and our local and state governments regarding social distancing and other measures to help prevent further community outbreaks.
We have implemented extra cleaning/sanitizing procedures in the guest rooms, as well as keeping the common areas of the Inn clean with daily sanitizing of door knobs, security touch-pads, bannisters, light switches, and other frequently touched surfaces. We have hand sanitizer and sanitizing wipes available for guest use, as well as a supply of masks.
If you currently have reservations, I hope you will not cancel. However, in the event you are not able to travel at this time, I will issue a "rain check" or voucher for a stay of the same number of nights at a future date, with no penalty. At this time, I am not able to issue refunds.
I understand that getting away to spend time in a safe space can be restorative and may help you relieve stress. Furthermore, a stay at the Shakespeare Chateau can be a healthy alternative to staying in larger, more crowded hotels. I hope you will consider taking a break and visiting me!
If you are not ready to travel at this time but would like to visit the Shakespeare Chateau in the future, I encourage you to purchase a gift certificate. Gift certificates are available in any dollar amount, or for a stay of 1, 2, or more nights. I am currently offering a 20% discount on all gift certificate purchases, and my gift certificates have no expiration date.
Please stay safe and well during these unprecedented times, and I look forward to seeing you again at the Shakespeare Chateau.
---
The majestic Shakespeare Chateau was built in 1885 for Nathan Phipps and Elmarine Ogden when St. Joseph was known as "Queen of the River Cities." High atop a bluff looking down across the city and the Missouri River, 809 Hall is one of several mansions in the National Register Historic District known locally as "Millionaires' Row." You'll enjoy meeting the friendly innkeeper, Isobel, as she takes you through the palatial interior.
You'll marvel at 47 (yes, 47!) original stained glass windows, carved cherry, mahogany, oak, and walnut woodwork, ornate fireplace mantles with original tilework, and of course, a bust of the Bard himself above the front foyer fireplace. But most of all, you'll enjoy our comfortable sleeping rooms, each one appointed with fabulous art and antiques and luxurious linens. Amenities include gourmet breakfast, HDTV with BluRay player, free WiFi, and private baths with jetted tubs and a luxury Euro-spa shower. The Shakespeare Chateau is perfect for weddings, business meetings, family events, and more!
Check out this drone video of the Inn, shot in August 2015.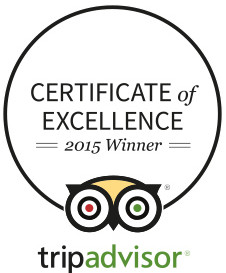 Overview
Luxury Suites at the Shakespeare Chateau
Incomparable comfort and elegant surroundings greet every guest at the Shakespeare Chateau!
The Chateau features four luxury suites to make your stay memorable. Let us be your hosts in St. Joseph and show you the best of our historic town.
View Accommodations
Come Find Us
Shakespeare Chateau is ideally located for exploring St. Joseph.
Sign Up Today
Sign up to be the first to learn about our seasonal promotions and special offers.
TripAdvisor Reviews
We strive to provide an exceptional level of service for every guest, and are proud to have a 5-star rating on TripAdvisor.
View Reviews